Member News
Burrows, Seidah and Bastardo Blanco honored
Burrows, Seidah join Canadian Academy of Health Sciences
The Canadian Academy of Health Sciences announced in September its list of new fellows in the health sciences. Two ASBMB members, Nabil Seidah and Lori Burrows, were on the list.
Burrows
Lori Burrows is a professor in the department of biology and biochemistry and associate director of the Michael G. DeGroote Institute of Infectious Disease Research at McMaster University in Hamilton, Ontario. Her lab studies how bacteria interact with surfaces to form biofilms that can resist treatment with antibiotics. They focus particularly on pili, protein filaments that extend from the bacterial surface and can be retracted or used to sense surfaces and other features of the environment. In addition to studying pilus structure and assembly, the Burrows lab is interested in the development of biofilms, mats of bacteria that grow on surfaces and can resist treatment with antibiotics.
She is a fellow of the American Academy of Microbiology and received the Murray Award for Career Achievement from the Canadian Society for Microbiologists. She serves on the editorial board of the Journal of Biological Chemistry, among other journals. She earned her Ph.D. at the University of Guelph, studying bacterial genetics.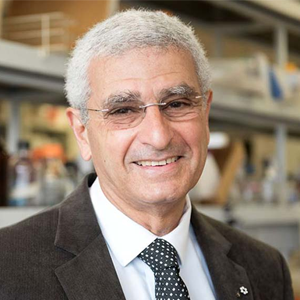 Seidah
Nabil G. Seidah is director of the laboratory of biochemical neuroendocrinology at the Institut de Recherches Cliniques de Montréal, or IRCM. His lab studies a family of proteases called proprotein convertases, which remove sections of proteins to convert translation products into their active form as hormones, integrins, transcription factors, receptors, viral glycoproteins or other roles.
Perhaps the most famous one they study is PCSK9, which Seidah cloned and showed has a direct link to familial hypercholesterolemia. Since making that discovery in 2003, Seidah's lab has continued to pursue investigations on how circulating PCSK9 and its expression in different tissues regulate cholesterol metabolism and how the protein affects disease states, such as cancer and viral infections.
During the pandemic, the lab also has shown that the proprotein convertase furin is critical in the activation of the spike protein of SARS-CoV-2 and infectivity of this coronavirus.
Seidah attended Cairo University as an undergraduate and earned his Ph.D. at Georgetown University before moving to Canada. Among his many awards and honors are membership in the Royal Society of Canada, the Orders of Canada and Québec; metabolic research awards from Pfizer, Wilder Penfield, Akira Endo and Lefoulon Delalande; and other awards in cardiovascular and lipid research.
Bastardo Blanco
PR award for Bastardo Blanco
Daniel Bastardo Blanco, the global liaison for medical content outreach at St. Jude Children's Research Hospital, received the 2021 Rising Star award from the Memphis chapter of the Public Relations Society of America.
Bastardo Blanco was also a member of an award-winning team. The society's VOX award for internal communications went to his office at St. Jude in recognition of its internal communications to hospital staff on COVID-19.
Bastardo Blanco, who hails from Venezuela, earned his Ph.D. in May 2020 through a joint program between St. Jude and the University of Tennessee Health Science Center. He studied T cell development and activation. He got his start as a science communicator as a mass media fellow for the American Association for the Advancement of Science in the summer of 2019, when he worked at Discover Magazine.
Enjoy reading ASBMB Today?
Become a member to receive the print edition monthly and the digital edition weekly.
Learn more
Get the latest from ASBMB Today
Enter your email address, and we'll send you a weekly email with recent articles, interviews and more.
Latest in People
People highlights or most popular articles