Hobbies
Science and spices
When she goes on vacation, Rajini Rao at Johns Hopkins University carries small amounts of spices with her in 15-milliliter screw-cap tubes. Rao says she enjoys trying local produce and uses the spices to cook one vegetarian meal a day when she and her family are traveling. The biochemist loves to cook so much she has an entire kitchen cabinet at home brimming with spices from around the world.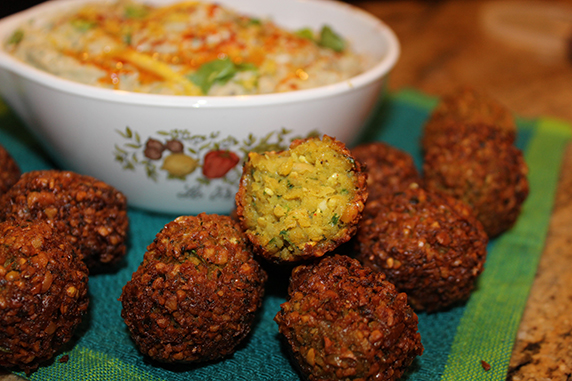 Rao's falafels are tinted with tumeric.
ALL PHOTOS COURTESY OF RAJINI RAO
Rao grew up in India, in particular in Kolkata in the state of West Bengal and in Dehradun in the northern state of Uttarkhand. After graduating from college in Bangalore, in south India, she moved to the U.S. for a graduate program in biochemistry at the University of Rochester in Rochester, N.Y. Though she made the move in the 1980s because biochemistry programs and research were more advanced in the U.S. than in India, it was a bold step for her to take. It was "practically unheard of for young, unmarried females to travel so far from home," says Rao. It took a bit of persuasion and compromise with her parents and grandparents before she was allowed to go.
The compromise was that she agreed to have tea with a young bachelor before she left India. That bachelor eventually moved to the U.S. as well and became her husband. Like a well-balanced dish, their pairing has been a great match. Her husband "has been a huge supporter of my research career and an enthusiastic partner in raising our kids," she says. "We've been drinking tea together for 30 years."
As a child, Rao initially wanted to be a physician, but she realized that she was "too squeamish to be a doctor." She heard about biochemistry while she was still very young and says "the term charmed and intrigued me. So the next time I was pinched on the cheek by a relative or family friend and asked what I wanted to be when I grew up, I replied, 'biochemist.'"
Rajini Rao, right, with her children and parents in Bangalore, India.
The fascination with biochemistry only grew stronger as time went on. ATP synthase, which she worked on in graduate school, was a topic Rao fell in love with during college while reading her pirated copy of Albert Lehninger's "Principles of Biochemistry."
Today, Rao's research is on ion transport proteins, including proton pumps, calcium ATPases and sodium-hydrogen exchangers. Her lab is currently "focused on linking transporter defects to autism, cancer and neurodegenerative diseases," she says.
Although she is immersed in her work in the U.S., cooking has helped Rao to maintain her connection to India. Her mother got her started with cooking when she was a child and still teaches her recipes. There are some mixtures of spices that her mother uses but that Rao hasn't learned to make yet. (Her mother graciously packs small batches of spice mixes for Rao to take back to the U.S.)
To set up her kitchen for success, she stocks her pantry with the basics: "flours, grains, lentils and plenty of aromatics like fresh lemons, ginger, cilantro and onions." When asked what she considers the most important ingredients always to have on hand, Rao without hesitation mentions her spices. There are many she uses routinely, but Rao says her go-to spices are coriander, cumin, fennel, cloves and mustard seeds, all of which she stocks whole, not ground. Rao says she enjoys adding her own twist to recipes, sometimes leading to "everything tasting Indian, much to my chagrin!"
Rao has a blog titled " Madame Scientist's Not-So-Mad Musings" where she occasionally pairs her recipes with stories. The stories sometimes bring in her scientific expertise, like a recent post on falafel. In " Falafel Faves and Favism," Rao explains that falafel originally was made from fava beans, but the beans can set off life-threatening anemia known as favism in a few people of Mediterranean descent who inherit particular variants of glucose-6-phosphate dehydrogenase. For that reason, people stopped using fava beans in their falafel and switched to chickpeas.
Her interest in blogging has an additional facet: She enjoys writing. As a head of a busy research laboratory, Rao says, her blog has become "an outlet for my joy of storytelling, an expression of my sense of humor, and a document of my experiments at the bench — which are now more in the kitchen than in the lab."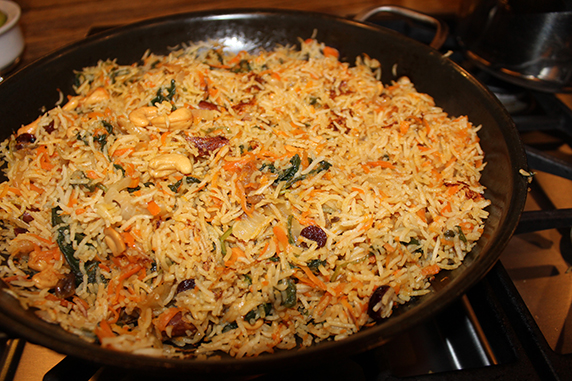 Rajini Rao's practically perfect pilaf
Measure out basmati rice: I use 2 cups to serve four generously (with leftovers for lunch the next day). Rinse a few times under cold running water. To drain, cover with a plate and let the water dribble out or simply tilt as much as you dare. Season the wet rice with coarse salt, a pinch of sugar and some red chili powder. Toss together and let sit for about 20 minutes while you prep the rest of the pilaf. This step further elongates the already long grain and makes it as delicate as a flower.
Measure out twice as much water as rice (by volume) into a pot and heat on the back burner. I use 4 cups.
Grate 2 carrots coarsely. Do you peel carrots? Why?
Wash and roughly chop a bag of spinach. I use baby spinach, so I leave it alone.
Thinly slice one sweet onion.
Gather your spices: 2 or 3 cardamom pods, split (you ought to save the shells for tea, but I leave them in); 2 bay leaves; cinnamon sticks; some cloves; and about a tablespoon of fennel seed.
Heat some oil in a heavy-bottomed pan. I like to use the broad, shallow type so that the rice is not crushed by its own weight at the bottom. A broad base also allows some golden crunchiness to develop at the bottom, Persian style.
Add whole spices and let sizzle for a few seconds.
Add sliced onions and toss around on high first. Then reduce heat to allow partial caramelization. You want the onions to turn partly brown so that they impart their rich color and sweetness to the pilaf.
Add the grated carrots and spinach and mix. At this point, I add a handful of dry fruits and nuts (cranberries, golden raisins, almonds or whatever you have on hand).
Add the pre-soaked basmati rice and toss together gently. Take care not to break the delicate grain. My mother told me so.
Add the premeasured hot water and stir. I like to dot the surface with some clarified butter to infuse the rice with a heavenly, buttery flavor. Cover and let steam on low heat for about 10 more minutes.
The rice is done when the water is absorbed. I add a handful of unsalted, roasted cashews at this point. Gently toss to mix.
Excerpted from Rao's blog, "Madame Scientist's Not-So-Mad Musings."
Join the ASBMB Today mailing list
Sign up to get updates on articles, interviews and events.
Latest in Opinions
Opinions highlights or most popular articles