Coordinates
'I just don't want to be lonely'
On an August morning almost a year ago, I was struggling with a particular chapter in my upcoming book, "The Rewired Brain." Toothbrush in hand, I stared at my reflection, mystified at what had possessed me to place a chapter entitled "What it means to be human" in the middle of my book proposal. Now it was time to write the chapter. How could I even begin to address the multifaceted aspects of our human condition in a 5,000-word chapter?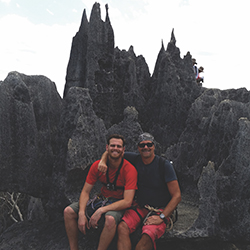 Chilton in Madagascar with his son Shane (left), who completed a stint with the Peace Corps in East Africa.
PHOTOS COURTESY OF SKI CHILTON
My iPad was tuned to Pandora's "Old Soul Radio" station. Even though I grew up far away from Detroit, in a small tobacco farming community at the foothills of the Appalachian Mountains in North Carolina, I love Motown. My daddy, a tobacco farmer, introduced me to the heaven that is rhythm and blues. During the evenings of my childhood, we were serenaded by the smooth voices of the Temptations, Otis Redding, Aretha Franklin, Marvin Gaye and the Supremes from a large stack of 45 rpm records playing on our RCA Victor record player. These days, when I get ready to head to work, I still blast the classic soul and R&B Pandora stations.
In the middle of my frustration on that August morning, a desperate refrain from a 1974 song covered by the band Main Ingredient repeated itself incessantly: "I just don't want to be lonely." As I brushed my teeth, I thought about the complexities and struggles of our human existence, and my mind centered on the question "Why is life so hard?"
In the midst of my musings, the previously dulled melodies of this first song of the day sounded louder than my introspection. Suddenly, the significance of the song, and particularly the refrain, "I just don't want to be lonely," came into focus. What it means to be human is to struggle with painful isolation, to have a desperate need to be in relationships and to journey on an often-volatile path to find a solution to that loneliness.
As a scientist, I aspire to understand "first principles" or the "central premise" as the National Institutes of Health now requires in its grants. The famed inventor Elon Musk has said, "You boil things down to the most fundamental truths and then reason up from there." Aristotle defined a first principle as "the first basis from which a thing is known."
No matter how intellectually sophisticated we are — and I know the audience I am writing for is very smart — I believe a first principle of our human condition is simply and elegantly stated in the Main Ingredient 1974 song "I just don't want to be lonely." Most of us spend our lives trying to overcome the prison of our loneliness through connections and relationships with others in both healthy and unhealthy ways. We search for meaning. We explore the mysteries of things we can't measure or prove. We come face to face with the looming shadow of our own death. All these aspects of our humanity drive us to find answers or solutions that will relieve our pain. I had spent years unsuccessfully resolving my fear of loneliness and related depression; it had, in many ways, played an important role in two failed marriages and my inability to move past a devastating family tragedy.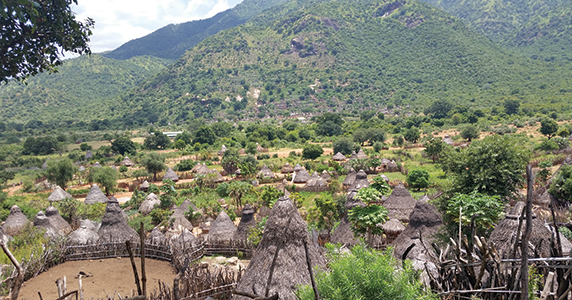 View of a village in South Sudan.
Enter Africa. A decade ago, during a particularly difficult period of my life, I took my first trip to Africa. The trip was organized by a charitable organization, and our team traveled to eight locations in a huge shantytown in South Africa. This was a time when HIV/AIDS had wiped out large numbers of young parents, so we were taking food, water, shoes and deworming medications for nearly 2,000 orphans.
I am almost embarrassed to admit that before leaving the U.S., I had not given the trip much thought. After all, I kind of had been roped into the trip by friends at a local church who were looking for folks to complete their mission team. In the end, I reasoned that I had never been to Africa and this trip was a great excuse to check one more thing off my bucket list.
After 30 hours of travel by air and van, we found ourselves in South Africa at a small Bible college surrounded by a 15-foot-high barbed wire fence in the middle of a very large "city" of shacks called Masoyi, made of plywood, corrugated metal, sheets of plastic and cardboard boxes. Following a few hours of sleep, we were welcomed with a hearty breakfast and a devotional by Manny Ohonme. Manny, a huge man with an infectious smile, was originally from Nigeria. He had moved to the U.S. to play college basketball, had become a very successful businessman, and now was president of a nonprofit organization called Samaritan's Feet.
Though I can't remember much about the devotional, I will never forget what Manny said to me right after it. We had not yet been introduced formally, but for reasons I did not understand at the time, he picked me out of the crowd and walked straight toward me. Looking me square in the eyes, Manny said, "You are about to be messed up!"
Taken aback, I stared back at him as if he were crazy. I had no idea what he meant by his bold statement. Who did he think he was? Obviously, he did not know who I was, an NIH-funded scientist with well over a hundred manuscripts and faculty positions at prestigious institutions such as Johns Hopkins University and Wake Forest University.
Two days later, Manny's prophetic words became reality. Our group traveled to a banana plantation. I cannot explain what happened the moment I stepped off the bus and my feet touched down on the red African soil, but I immediately sensed my life would forever be changed at this time and by this place. As I turned my head to scan the landscape, my eyes first fell on the hundreds of children confined behind a tangled and rusty barbed wire fence. The rich owner of the banana plantation had been "kind" enough to provide a former feed lot for animals to house these orphans. The older children stuck their heads through the sharp coils to get a better look at the rich Americans walking toward them.
Off in one corner of the lot, there was a group of about 50 infants and young children sitting in muddy, parasite-infested sewer water. Some were playing, others splashing, but most were crying, wailing at the top of their lungs.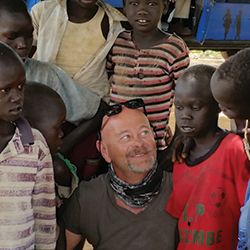 Chilton visiting with children in South Sudan.
I was inexplicably drawn to one particular child who appeared to be about 2 years old. His eyes were deep yellow from liver failure as a result of disease, perhaps AIDS or tuberculosis. His face was badly distorted by a birth defect and the ravages of malnutrition. He was crying but only halfheartedly, as he had cried for so long without anyone paying attention. I asked the older woman in charge of the smaller children the name of the child. She shook her head and shrugged. She didn't know. At that moment, I realized that most of the hundreds of children in this animal feed lot did not have names. This thought took my breath away and completely broke my heart.
Staring at the tearful baby, my instinct was to scoop him up in my arms. But as we locked eyes, I thought with fear, "I can't hold him. There's too much of a risk." As a biomedical researcher, I knew the risk of contracting a disease from fluids seeping from every part of this child's body.
In that moment, for the first time in my life, I felt a powerful yearning. Let me say, especially to this audience, that I had always been the one in the crowd who scoffed with scientific arrogance whenever I heard someone say that she or he heard the voice of God. But standing there, staring at a malnourished, crying baby in the sweltering African heat, I sensed two questions: "Who are you?" And then, "Whose are you?"
I believe those two questions changed my life forever.
I believe the situation and the questions were a reminder to me of my connection to humanity. I was linked to this child through the family of the human race in ways I could not possibly comprehend. In showing love to this child and others roaming around the banana plantation and this shantytown, I realized that I was showing love to the entire human race, and that included myself. The question "Whose are you?" prompted me to step up to a life of action that moved well beyond mere words, theology and religious tradition. I instantly knew that I had a responsibility to provide unconditional love to the universe, and somehow I realized that if I did, the universe — or, if you are a person of faith like me, the maker of the universe — would give me immense love back. I believe this ultimately was the first principle that provided the key to free me from my prison of loneliness.
I picked up the child from the muddy water, wiped his face with my shirt and pressed his face against mine. Holding his emaciated body tight, I softly sang the same lullaby my mom had sung to me, "Bye oh baby, oh bye, oh baby." Almost immediately, the little guy stopped crying and looked right into my eyes. My perspective that everything was meaningless dissipated, and, in its place, a new one of purpose stepped in. My dear African brother Manny was right. I was messed up — messed up in the most meaningful way possible.
For the past 10 years, I have participated in nonprofit organizations in the U.S. and throughout Africa. I am currently president of the not-for-profit Heroes Helping Heroes and the chairman of the board of the Persecution Project Foundation. Heroes Helping Heroes provides mentoring as well as health and wellness solutions to orphans and foster children in the U.S. and Africa. The Persecution Project Foundation brings crisis relief, education and hope to victims of civil war, genocide and religious persecution within Sudan. While this may sound impressive and very heroic, I always remember the critical lesson Africa has taught me: I need Africa much more than Africa needs me.
Join the ASBMB Today mailing list
Sign up to get updates on articles, interviews and events.
Latest in Opinions
Opinions highlights or most popular articles