Hobbies
The 1,200-pound dance partner
Getting a Ph.D. in molecular and cellular biochemistry doesn't leave you with much free time. But Sarah Martin, a newly minted Ph.D. with a policy fellowship at the American Society for Biochemistry and Molecular Biology, found a way to make time between lab hours and piles of research for what she loves most: dressage.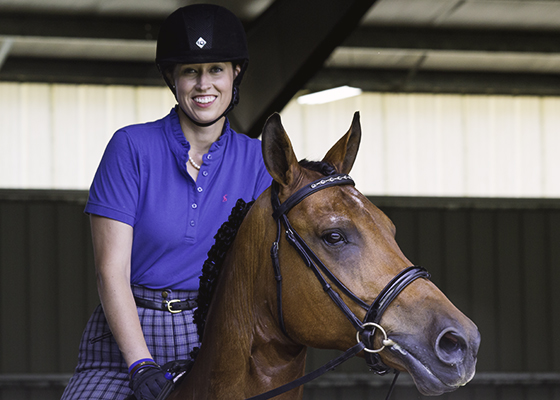 Sarah Martin and her horse, Garth
Dressage, which means "training" in French, is sometimes referred to as horse ballet. Horses learn a series of dancelike movements like trotting in place with hoofs high, moving sideways and pirouettes.
"It's considered the highest form of training of the horse," says Martin. "Originally it was cavalry maneuvers for warhorses, so a lot of the things we do are to show the agility and the athleticism of the horse and your ability to communicate with the horse seamlessly."
Martin grew up in Lexington, Kentucky, or, as she calls it, "horse country." She had a horse mobile over her crib as a baby, and as soon as she could sit up, her mother put her on a horse that knew voice commands. She remembers riding him for hours at a time.
But Martin says the riding life was never forced upon her. "I was always pestering my parents to get me (a horse)."
Martin began her riding career as a hunter-jumper but switched to dressage when she grew very tall, eventually reaching a height of 6 feet 1 inch. Being tall is not great for "the kind of person who goes over fences," says Martin. But in dressage, "being tall is useful. Your legs hang down longer on the horse, and you can control them better."
Martin made the switch to dressage at age 14. The change of focus was a relief to her mother, who wasn't happy watching her daughter occasionally fall during increasingly higher jumps.
Martin's horse competes as SRC Parrot Bay, but that isn't the name he was given when he was born. Martin calls him Garth, which is a Nordic name that means "quiet brook" or "meadow." She chose the name because he is half Friesian, which is a Nordic breed, and because he was quiet but attentive. She talks about Garth as one would about a human dance partner. She does her best to make sure his gaits are presented well but says sometimes this gets complicated. "Your 1,200-pound dance partner never agrees with what you have to say," she says.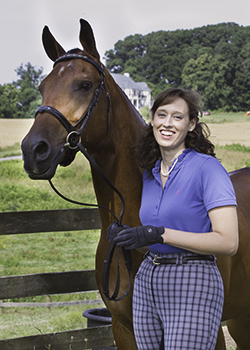 Martin and Garth at his new home in Maryland. Martin blogs about science and dressage at equestrianbiochemist.wordpress.com
IMAGES COURTESY OF EMILY HUFF
Garth and Martin currently are focused on getting back into shape after taking some time off so Martin could finish up her dissertation. The break gave Garth some much-needed relaxation, as the two had competed through most of Martin's time in graduate school. Among their most recent wins are the American Warmblood Society 2013 second-level national championships in both the adult amateur and open categories.
After considering becoming a veterinarian as an undergraduate, Martin did her Ph.D. in biochemistry and molecular biology at the University of Kentucky. "I figured out that I like healthy animals and not sick animals," she says.
When she first started graduate school, she studied nutrition and worked on the urological disease interstitial cystitis. Her Ph.D. research was in prostate cancer chemotherapy, specifically on taxanes, which have been used in the treatment of both prostate and breast cancers.
According to Martin, juggling the demands of dressage and graduate school was a huge challenge. "My horse was really primed. It was a really good time for him to be out on the circuit, and that means training five or six days a week."
Training involved a lot of early mornings. Martin went to the barn and had a lesson or did barn chores and then needed time to clean up and change clothes to ensure that she was lab ready after working with animals. "Graduate students look like a hot mess anyways, so I don't think anyone ever noticed," she laughs.
She made it through with the help of a "wonderful support system," including a trainer who rode Garth three to four days a week and a husband who was also willing to pitch in. Martin now has moved Garth to a farm in Maryland that is near her office in Maryland, and she and Garth are gearing up to compete again in the fall.
When she accepted the policy fellowship, there was never a doubt that Garth would move with her. "My horse is my soul mate," she says.
Join the ASBMB Today mailing list
Sign up to get updates on articles, interviews and events.
Latest in Opinions
Opinions highlights or most popular articles