Essay
Scouting for science
Am I a scientist scouting for answers or a Scout doing science?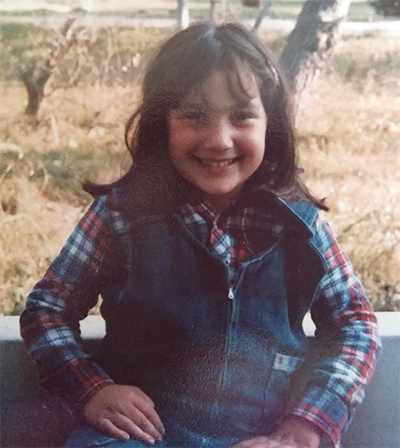 Ana Zambrana, shown here in about 1985, grew up in a rural coastal area of Uruguay.COURTESY OF ana zambranaI was born in Montevideo, the capital of Uruguay, but I grew up in a country house by the sea in a place now called the City of the Coast.
It was great to grow up in constant contact with nature: the starry skies, the winds and storms amplified by the nearby sea, the dunes next to my house and vast woodlands, the coastal birds, lizards and moles, cows and horses in what was then a rural area. I was connected to the scientific roots of humankind.
When I was 8 years old, following a family tradition, I joined the Scout Movement and henceforth spent a lot of time enjoying nature and doing community service with my group. My parents met in one of the first Scout groups in my country (unlike the U.S., scouting in Uruguay is all coed); they inspired me to join the Cub Scouts as soon as I was old enough. My nephew joined the pack in 2015, becoming the third generation of Scouts in our family.
We camped in the woods, built canoes to cross a small river, backpacked in the countryside, climbed hills guided by the Southern Cross and slept under the Milky Way. I learned that life is great and Mother Earth is wonderful. Scouting activities challenged me to break the boundaries of my comfort zone and to develop skills such as teamwork, empathy and problem-solving.
I was the group chief on a tent camping trip one summer evening about six years ago when a coming storm forced us to evacuate for safe overnight housing. The 30 adult leaders and educators had to make a spot decision and organize the safe transportation of about 100 children and teenagers. This was the first time some of the younger adults had been in charge of children, and they were in distress. The experienced leaders didn't see as much potential danger; we had to calm the younger adults, keeping all the leaders happy and all the children safe. We acted quickly, talking assertively and caring for the youngsters. As Scouts, we always were prepared for such situations. In this case, since it was a big group, I had called a nearby military base a week in advance to organize for a possible evacuation. It went very well; the younger Scouts had fun in the big rooms with bunk beds, and soldiers greeted us, saying they had been Scouts when they were younger.
Now, 30 years after joining the Scout Movement, I am a biochemist specializing in nanotechnology and plant biotechnology.
As a child and teenager, I was deeply interested in exploring the world around me. Whether in astronomy, physics or other natural sciences (my father was an officer in the merchant marines) or in the social sciences (my mother had a degree in sociology and is now an English translator), I wanted to understand how our surroundings affect our lives. Among my wide-ranging interests, biology attracted me from the very beginning: I wanted to learn the secrets of life itself.
In high school, I did not do particularly well in science courses, and I had to study hard to pass the exams. My school counselor encouraged me to take more science credits, and I majored in biology in college. I did not find it easy, but, still intrigued by the wonders of life, I enjoyed the challenge. After a year abroad in the U.S. as an exchange student, I made up my mind to start a career in biochemistry.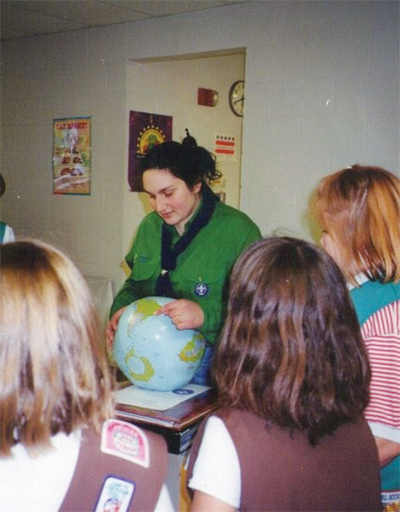 Zambrana, pictured in 2000, uses a globe to show Brownies and Junior Girl Scouts in Rochester, Minnesota, where her home country of Uruguay is.COURTESY OF ana zambranaDue to limited science funding in my country, I've faced difficulties. My university did not have funds for a full-time research position, so I had to earn my Master of Science part time and needed twice the time to graduate. I worked long hours in the lab, distancing myself from the outside world. I analyzed isolated cardiomiocytes from diabetic mice and tested their stiffness using atomic force microscopy.
At the same time, I joined the directive board of the Uruguayan Scout Movement — becoming a scientist during the week, a Scout on weekends. I no longer work directly with young people, but I help coordinate activities around the country. I contribute from this position to the World Scout Movement because I believe the values we learn as young Scouts remain forever.
I can no longer divide these two aspects of myself: Am I a scientist scouting for answers or a Scout doing science?
I've concluded that I am both, and they are interconnected.
Scouting let me see challenges as learning opportunities, learn useful life skills and do research from a young age. As an adult, I apply these experiences in my life. After months of struggling with an experiment, it's fascinating to find out whether my hypotheses are confirmed.
My community service is using science for social justice; my research topics — biofortified rice for my bachelor's degree and Type 1 diabetes for my master's thesis — have had a strong social component.
Rice is polished because the outer components, rich in vitamins, rot and get moldy, making it more expensive to store. White polished rice, mostly starch, has almost no nutrients. Therefore, people in developing countries whose main food is white rice have poor nutrition and often suffer from anemia and iron deficiency. The rice developed in my lab (which I analyzed at the molecular level) had higher levels of iron than normal rice; I was motivated to work in a project that helps reduce health problems.
For my master's studies, I worked on a project looking for a possible explanation and treatment for heart failure due to Type 1 diabetes. Once again, I wanted to help patients to have better and longer lives.
For the past three years, I have worked part time as a high school biology teacher. Explaining to my students what I do in the lab reinforces my commitment to research. They ask big questions: What is the meaning of life? If our bodies decompose because we are organic, does that mean we are reincarnating in a new life form? If our telomeres didn't degrade, could we be immortal?
When I tell my students that my research is on diabetes, they urge me to find a cure. Most have diabetic relatives. This reminds me that what we do in the lab can improve people's lives. Science communication has become a new interest, as I must explain my research to my students.
Scouting taught me to organize group activities and to give workshops. It gave me a head start in science communication and teaching varied audiences in programs such as Gusto a Ciencia — Taste of Science — where we do science outreach in bars and restaurants in Montevideo. I've done science monologues in several countries in South America, sharing my passion for research from the stage with my outreach group, Bardo Científico. In 2017, I was invited to join the American Society for Biochemistry and Molecular Biology Science Outreach and Communication Committee. Now I work with them to reach the society's education and communication goals.
I am a scientist scouting for answers and a Scout doing science. Whatever obstacles might come my way, I shall be fearless and march onward — for science.
An earlier version of this essay was published on The Xylom, a website where scientists tell their stories.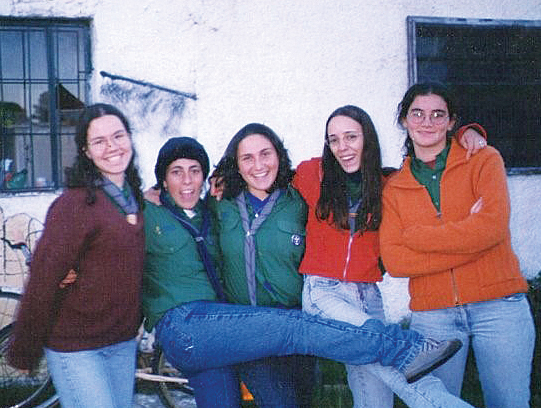 Ana Zambrana, center, poses with her fellow Scouts in 1999 in Uruguay.COURTESY OF ana zambrana
Enjoy reading ASBMB Today?
Become a member to receive the print edition monthly and the digital edition weekly.
Learn more
Get the latest from ASBMB Today
Enter your email address, and we'll send you a weekly email with recent articles, interviews and more.
Latest in Opinions
Opinions highlights or most popular articles