President's Message
The ASBMB is here for you
It is a special honor for me to serve as the president of the American Society for Biochemistry and Molecular Biology for the next two years. First, I'd like to congratulate and thank Natalie Ahn for the great job she did as president. Natalie worked tirelessly over the past two years, and her contributions will benefit both our field and the society for years to come.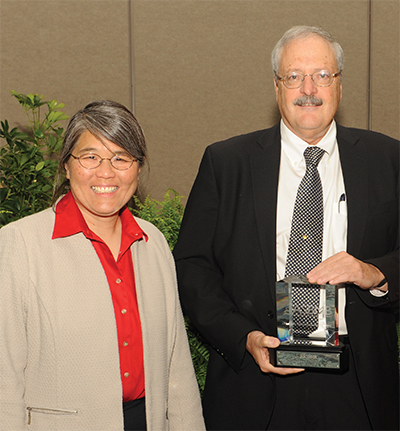 Natalie Ahn, the outgoing ASBMB president, and Jerry Hart at the 2018 annual meeting in San Diego.ASBMB
I have been involved with the ASBMB throughout my career. The society was founded in 1906, shortly after the founding of the Journal of Biological Chemistry. The society and the journal were both founded by John Jacob Abel of Johns Hopkins University. Abel also founded my department in 1908 and hired our first chair, Walter Jennings Jones. Counting myself, all five of the past chairs of our department have been very active in the society and served as its president. As a postdoctoral fellow and as a young faculty member in the department of biological chemistry (previously called physiological chemistry) at Johns Hopkins, I was expected to join and become active in the ASBMB (then called the American Society of Biological Chemists). Clearly, my mentors knew that actively participating in the ASBMB would help my career development greatly.
What is the ASBMB? At the 2018 national meeting in San Diego, the ASBMB Council approved the following position statement: "The ASBMB is a dynamic community dedicated to fostering discovery and helping people get to their next level in molecular life sciences."
The ASBMB has benefited my own career in many ways:
It provided me with a national platform to present my research to other molecular life scientists and to become visible to the community of scientists.


It provided many networking opportunities with both early-career and more established investigators, including social interactions at meetings.


The ASBMB greatly amplified my voice to advocate for improved funding of fundamental discovery research and to influence policy change.


The ASBMB published many of my papers in its journals, all three of which are widely regarded as the top places to publish high-quality discovery-level research in biochemistry, proteomics and lipids.
Like many ASBMB members, until serving as president-elect over the past year, I had little appreciation for all the great work done by the society. The ASBMB is an organization run by scientists for scientists. However, the day-to-day operation of its many activities is carried out by an amazing group of dedicated professionals who run the journals, plan meetings, manage finances, promote outreach and amplify our voices to promote fundamental science to government funding agencies.
During my tenure as president, I hope to accomplish several things, including the following:
I will work with the ASBMB marketing staff to convince more young people to join the society and to attend the annual meeting. This effort is already underway and is key to the viability of our organization.


I hope to help to better integrate the activities and goals of the three society journals into the ASBMB's operations and communications. The journals are among the most important things that the ASBMB does for our fields. We will explore ways better to highlight the benefits of publishing in our journals rather than publishing in for-profit journals that do not reinvest the revenue to benefit fundamental discovery science.
I plan to tweak the structure of the annual meeting to maximize the number of young people selected to give oral presentations. More than 200 young scientists gave oral presentations at the 2018 annual meeting. I hope to increase this number greatly by integrating "flash talks" into the program. These very short talks will allow young people to give snapshots of their posters and invite attendees to come and learn more. Hopefully, this also will increase interest and attendance at the poster sessions.


ASBMB staff members are very active on Facebook, Twitter, email, etc., but the membership often is unaware of how important and relevant the society is to their careers and to their voice in our community. We will brainstorm how we can communicate more effectively, for example, by developing a useful ASBMB mobile phone app.


Many of our students and fellows now are going into careers in industry and biotechnology. Yet only a small percentage of our members are from these sectors. Together with the membership committee, we will explore mechanisms and needs of researchers in industry and biotech and entice these folks to join and actively participate in the society.


Finally, we plan to look for ways to get more of our members actively in important society committees, small meetings and other activities that not only will benefit their careers but also will help advance the importance of fundamental discovery science.
It is my fervent hope that we can revitalize the ASBMB by attracting more young people to join and participate actively. In addition, we need to expand the breadth of our members to include people in industry. If you have any ideas to help advance our society, please contact me.
Join the ASBMB Today mailing list
Sign up to get updates on articles, interviews and events.
Latest in Opinions
Opinions highlights or most popular articles