Outreach
Teaching science
and social justice
Project seeks to promote social consciousness in the classroom
When did you first learn about the American eugenics movement and the Tuskegee syphilis studies? How long were you culturing HeLa cells in the lab before you heard of Henrietta Lacks? What do you say to a family member who has chosen not to vaccinate his or her child after finding extensive pseudoscience masquerading as evidence online?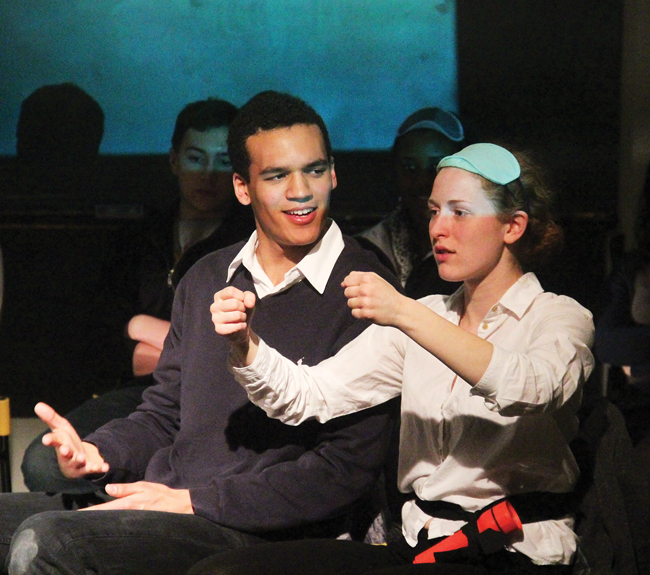 Actors in "Edge of the Map" portray Alice Wexler and her father, Milton Wexler, discussing whether she should have children, given that her mother suffered from Huntington's disease.
Most scientists gain their first research experiences as undergraduates, prior to any formal training in ethics or social justice in science. Though we train scientists to be technically and theoretically critical of their own work and that of others, critical examination of the societal context of research or active engagement in public discourse rarely is encouraged.
The Science and Social Justice Project — a joint effort of faculty members at the Arcus Center for Social Justice Leadership at Kalamazoo College and at Harvard Medical School — seeks to remedy the segregation of science from its value-laden historical, social and political context in undergraduate and graduate classrooms. Together, we are building a Web-based repository of curricula and activities that integrate science and social justice topics into scientific training programs.
While continued efforts to expand and improve the mandatory ethics training and guidelines of the National Institutes of Health Office of Research Integrity are laudable, those courses continue to vary widely in quality and depth and are diminished in importance by being on to, rather than woven into, curricula. It is our belief that substantial experience with relevant materials from the social sciences and humanities must be incorporated into the scientific curriculum. Yet, to date, incorporation of these topics in science courses is left exclusively to the personal motivations of individual educators. We hope to raise the profile of these individual efforts, highlighting stellar exemplars of integrating science and social justice that often go undetected and uncovering best practices that can ultimately bolster mandatory ethics training and make substantial exposure to the social sciences standard throughout science curricula. The Science and Social Justice Project will present a compendium of curated models that span the sciences and offer a range of depth so that you, the user, can easily extract, adapt and integrate social justice components in your science classroom.
Courses with science and social justice content:
include science-communication training to improve the public discourse about science,
bring relevant examples of social justice issues into introductory science survey courses and advanced topics courses,
incorporate social justice issues into laboratories, class activities, or field trips, and/or
focus on scientific ethics.
Principles of practicing social justice work in science
Develop awareness of current and historical injustices and injuries promoted or perpetrated by science and scientists.
Use science as a tool to improve the human condition and create more just communities.
Speak out in defense of sound science and against scientific abuses and unreasoned attacks on science.
Challenge the work of scientists that entrenches inequities in power and resources or harms, divides or discriminates against people.
Involve those who are the subjects or stakeholders of scientific study in the design and implementation of solutions.
Foster discourse between those in the natural sciences and those in the social sciences to promote a critical examination of scientific endeavors, broader accountability, the communication of science and solidarity.
At the University of Minnesota, Sehoya Cotner has incorporated social justice issues into her introductory biology course, "Evolution and Biology of Sex." In the course, Cotner moves beyond the basic biological definition of sex to what science can and cannot tell us about such things as gender identity, mating preferences and kin selection. By pushing to the boundaries of what is currently known, Cotner introduces her students to discovery science. As she states, "It's an opportunity for me to say that science isn't about answers; it's about questions and about refining your hypotheses and figuring out what data you really need."

The "Social Issues in Biology" course taught by Jon Beckwith at Harvard Medical School also incorporates societal factors within a science setting. Last spring, the course allowed students to participate in a collaborative, multimedia theater production called "The Edge of the Map." Calla Videt, a writer and director of the SIGHTLINE theater company in New York, developed an experimental production with the input of students and Beckwith.

During a five-week residency, Videt and the course teaching assistant led students in art-making activities to produce content, such as audio recordings and visual artwork. These materials were publicly exhibited in conjunction with the final production. The course and performance also incorporated a Twitter campaign to engage audiences in discussions about the social implications of science.

"The Edge of the Map" focused on genetics, interweaving four stories that tackled questions about what genetics can and cannot tell us about identity using present-day and near-future innovations in genetic testing and engineering. "Connecting a theater production with a course on social issues in biology energized the class in its discussions of the social implications of genetics and of how theater could communicate these issues to the public," Beckwith says.

You can help us gather and enlarge the community of scholars devoted to making social science training an explicit and desegregated part of science teaching and research in one of two ways:
by contributing syllabi and other course materials that you have developed and/or
by participating in the Science and Social Justice Think Tank, as part of the Kalamazoo College Arcus Center's upcoming conference, WITH/OUT – ¿BORDERS?, which will take place Sept. 25–28. Conference participants will contribute to workshops and have broader conversations about scientific culture, interdisciplinary boundaries and globalization.
Embedding social responsibility and engagement in the science classroom will create a community of scientists who are able to distill and present nuanced perspectives on how science can and cannot inform decisions in our daily lives and public policy. Together we can firmly integrate social consciousness within the scientific culture.

To read more about the Science and Social Justice Project and find out how you can get involved, visit www.kzoo.edu/praxis/category/science.
Enjoy reading ASBMB Today?
Become a member to receive the print edition monthly and the digital edition weekly.
Learn more
Get the latest from ASBMB Today
Enter your email address, and we'll send you a weekly email with recent articles, interviews and more.
Latest in Opinions
Opinions highlights or most popular articles