Symposium
Rewriting the rules
SciOut2018 flips the script on traditional symposia
Most of us have been to scientific meetings in conference halls, hotel ballrooms and university spaces where we've sat through opening remarks, mini-symposia, keynotes and award lectures.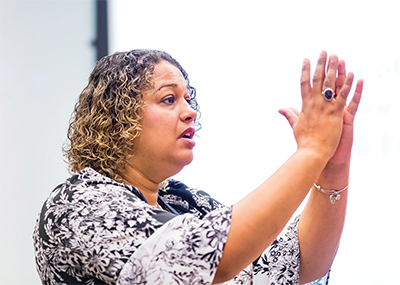 Susan Renoe of the University of Missouri and the National Alliance for Broader Impacts delivers a flash talk on experiences and perspectives around metrics during the SciOut18 science outreach meeting in October.All photos by Scott Rudd
Tried and tested, the traditional format of lectures and coffee breaks followed by a poster session and open bar works well when the goal is to disseminate field-specific information. Yet the most exciting moments of scientific meetings often take place in the hallway, over breakfast or in a shared cab when colleagues discuss overlapping interests and spontaneously develop plans for collaboration.
We decided to flip the traditional script on what we knew or thought about scientific meetings with Science Outreach: Models, Methods and Measures, aka SciOut2018. This special symposium, conceived by the American Society for Biochemistry and Molecular Biology's Science Outreach and Communication Committee and led by Jeanne Garbarino, Edwin Li and myself, was intended to address an unmet need — to bring science outreach practitioners together to tackle big issues in our field, including the scaling and sustainability of outreach programs, engaging underserved populations, and the generation and use of metrics and evaluations.
But that brought us to our aha moment: Who are we to decide what the biggest issues facing the science outreach community are?
Science outreach practitioners are as diverse as the fields we're drawn from. True, some of us are faculty or staff at academic institutions, but many are artists, curators, consultants, community organizers or employees in private or nonprofit fields. Thus, our limited perspectives couldn't provide robust programming to meet all the needs and interests of the community we hoped to serve.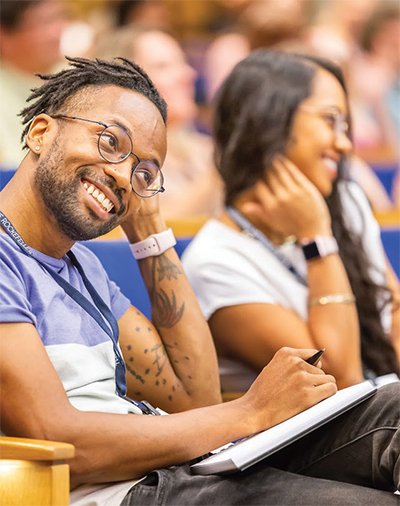 Devon Collins of Rockefeller University enjoys one of the speakers at the SciOut18 conference held in October at the university in New York City.We decided to take an "unconference" approach, letting the participants set the agenda. We sent attendees a list of questions related to science outreach, and from their responses we generated a two-day plan with 10-minute flash talk speakers. This approach differs slightly from a true unconference, where the agenda is set after attendees arrive; we still needed some advance structure to feel comfortable, and that was provided in part by Grant Garrison from PUBLIC Inc., who has experience running such meetings.
No one knew what to expect — not the attendees and, to be honest, not even the organizers. We had just asked 120 people, the majority of whom had never met each other, to attend a meeting without a formal agenda. It can be unsettling to be told, "We don't have a plan," especially for scientists who thrive on structure and meticulous attention to detail.
In many ways, SciOut18 functioned like an enzyme, catalyzing a reaction that otherwise would not happen in a relevant time frame. We brought together people, many of whom would not have met in any other context, and provided the right environment for meaningful dialogue about things that matter the most to them and their community.
Douglas Vakoch, president of Messaging Extraterrestrial Intelligence, attended SciOut18 because he wanted to connect with others who are dedicated to communicating the latest scientific developments to diverse audiences. Since the meeting, two other participants have become members of his organization's advisory council, enabling ongoing collaboration.
"I have never participated in a meeting that so exquisitely balanced structure and spontaneity as SciOut18 did," Vakoch said, noting the mix of speakers and small-group discussions.
"SciOut18 encouraged each of us to take the initiative in deciding priorities for the future of science communication," he said. "We were invited to lead groups in areas already defined by the organizers, as well as on topics that we identified over the course of the meeting."
Christina Marvin, a postdoctoral fellow at the University of Wisconsin-Madison, said she was drawn to science outreach through a desire to connect science and the community.
Among those sharing a moment of lively discussion during a group work session at the SciOut18 meeting are, from left, Edwin Lee of St. Joseph's University, Lou Woodley of the American Academy for the Advancement of Science, Julie Nadel of Johns Hopkins University, Odaelys Walwyn-Pollard of Rockefeller University and Jory Weintraub of Duke University.
More info
If you are interested in learning more about SciOut18 or would like to be involved with future outreach initiatives through the ASBMB, contact Nicole Woitowich or Jeanne Garbarino.
Video
Hear participants talk about science outreach and see scenes of SciOut18.
"I grew up in a small coal-mining town, where many people lacked access to strong science," Marvin said. "I want to demonstrate to young people and their families that the world needs scientists from all backgrounds in order to enrich discussions and help scientists better serve real communities."
For Marvin, SciOut18 provided new and meaningful connections. "I found myself sitting at the same table as an educator who works with communities in the region I grew up (in)," she said.
At SciOut18, there were no PowerPoints, no poster sessions, and the name tags did not include terminal degrees. The conference website featured information on attendee demographics and highlighted a code of conduct that included a zero-tolerance policy on harassing, abusive, discriminatory and derogatory behaviors. For pumping or nursing mothers, video-conferencing software provided a live feed of the proceedings to a private space. Lodging and travel support was provided to all attendees who needed it. These decisions all were intended to make this meeting as equitable and accessible as possible.
"SciOut18 was a fusion of heady idealism and nuts-and-bolts practicality," Vakoch said. "Science communicators need a clear vision for the future of their profession, as well as expertise to implement that vision in the real world. SciOut18 provided both, setting the stage for bringing science communication to the next level as an independent profession."
Join the ASBMB Today mailing list
Sign up to get updates on articles, interviews and events.
Latest in Opinions
Opinions highlights or most popular articles