Outreach
What is service?
My father always emphasized the importance of giving back to the community that has given so much to us. That thought has resonated with me. And it's how I find myself on this relentless pursuit to serve.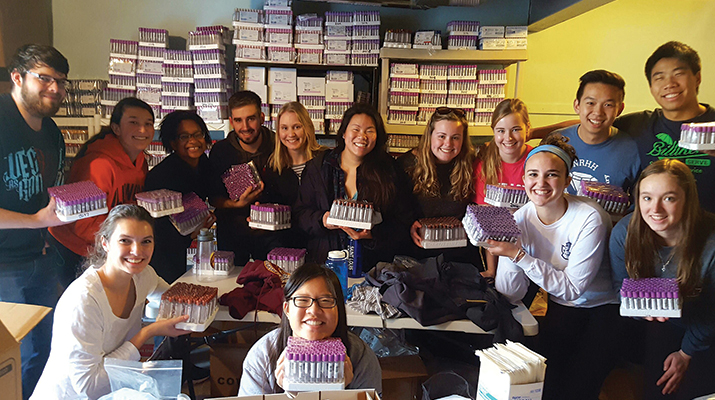 Cheung and a group of Health Sciences Learning Community students volunteered with Randolph World Ministries in 2016.
PHOTOS PROVIDED BY MATTHEW CHEUNG
After an invitation from my dad, I began volunteering with the Lupus Foundation in high school. In college, I joined Alpha Phi Omega, the national service fraternity. Currently a senior at Saint Louis University, I have completed hundreds of service hours. Needless to say, service plays an integral part in my life. Through my experiences, I have explored the deeper meaning of what it truly means to serve but also have uncovered the darker side of service.
Volunteering at soup kitchens, hospitals and nonprofit organizations are just a few examples of the countless service opportunities that exist. Serving is made especially simple when surrounded by other motivated students at a university that places such a heavy emphasis on serving the greater community. In fact, SLU prides itself on completing more than one million service hours each year. But what does that really mean? After all, it's just a number.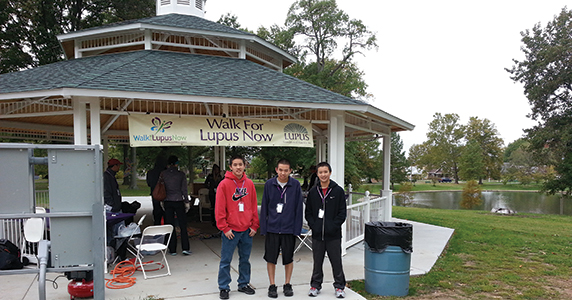 Cheung and his brothers participated in a Lupus Foundation annual walk in 2012.
We gather each October and April for universitywide day of service events in which upward of 4,000 students go out to spend five hours engaging in community service. Most of us find ourselves weeding, pulling roots, mulching and raking leaves. These mundane tasks are assigned to accommodate the mass quantity of students. We leave that day feeling great about ourselves because of the change we made that day and carry on with our merry lives. We never return to these sites. We never speak to these people again. So let's be honest. Did we actually make a difference? Sadly, I don't think so.
I know this because I've also fallen into this trap.
My point is not that days of service are terrible affairs that should be avoided. Rather, my point is that true service is more than just a one-day excursion. Service consists of continuous processes that develop into fruitful relationships. It's when genuine connections are built and strengthened over the course of time.
I've found these meaningful relationships personally while volunteering with disease-specific organizations, such as the Lupus Foundation, the Alzheimer's Association and the Polycystic Kidney Disease Foundation. I spend time helping out at their fundraising events including 5K races, walks and dinners. My dad and I volunteer together at many of these events. It's such a great experience because I get to interact with survivors and people struggling with these diseases. I get to hear about their stories and firsthand accounts of their struggles.
Additionally, I had the privilege of working with inspireSTL. Each Saturday, I provided free ACT prep for high school students from underprivileged areas. These students could not afford tutoring, so they were dependent on volunteers like me to help them.
One of my favorite service relationships I've built is with one of my professors who runs a small medical mission organization called Randolph World Ministries. I spend time at his house sorting medical supplies, creating sickle-cell kits and then shipping them off to clinics in Haiti.
Even better, I've had the opportunity to combine this with an on-campus position. I get the joy of working as a resident advisor for the Health Sciences Learning Community, where one of my goals is to develop programming that integrates a cocurricular experience for first-year college students. Once or twice a semester, I plan a service event that brings around 50 students to volunteer at Randolph World Ministries. Students love the events and are eager to return the next time. Not only do they get to see real-life applications of what they're learning in the classroom, but they have lots of fun as well. They get to spend time with each other while doing medically related work that benefits the people of Haiti.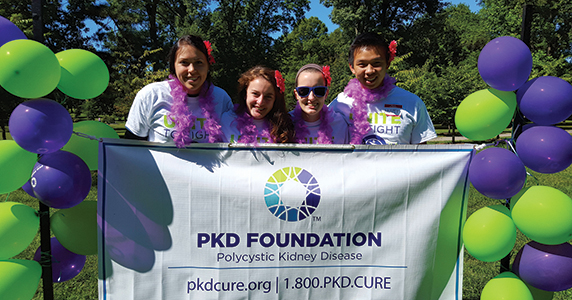 Matthew Cheung and his friends volunteered at the Polycystic Kidney Disease Foundation annual walk in 2015.
I have developed strong, sustained relationships with the people I've served. It's satisfying knowing that others directly benefited from the work that I invested in. That's why I love doing service. I feel like I get more out of it than I put in. For that reason, one could argue service is inherently selfish. Maybe it is. But maybe it's meant to be a mutualistic relationship. Like humans and their gut bacteria, both parties work together, and each benefits.
As I reflect on what I've learned through my experiences, I constantly come across one larger question: Why does service even exist?
Raising money for disease, tutoring underprivileged students or packaging medical supplies for those in poverty all expose the underlying societal issues at hand. The greater problem in this picture is the fact that these inequalities exist in the first place. In an ideal world, none of our acts of service would be necessary to begin with.
After acknowledging these inequalities, I realize that my community service only offers a short-term solution. It does not solve the underlying problem. However, that does not mean that service isn't necessary; rather, we should be cognizant of these bigger concerns. As an aspiring physician-scientist, these current learning experiences will be key in shaping my future practice. It's a matter of using my privilege to maximize the service I can provide to those around me, striving to alleviate these greater issues.
Join the ASBMB Today mailing list
Sign up to get updates on articles, interviews and events.
Latest in Opinions
Opinions highlights or most popular articles