Member News
Department chairs sponsor society memberships
Richard Brennan, chair of the department of biochemistry at Duke University, made a surprise announcement immediately after an American Society for Biochemistry and Molecular Biology networking event in May: He volunteered that the department would pay the membership fee of any graduate student or postdoctoral fellow at Duke who wished to join the ASBMB.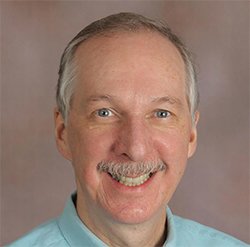 Richard Brennan
Since that announcement, Brennan has added 39 members to the ASBMB rolls — 35 graduate students and four early-career investigators. And he is not alone. John Corbett, chair of biochemistry at the Medical College of Wisconsin, has a longstanding policy of paying ASBMB dues for graduate students and postdocs in his department and providing professional-development funds to his faculty that can be used for membership.
When asked about his motivation, Brennan cited the multiple professional benefits of ASBMB membership and said the advantages gained by the trainees at Duke outweighed the minimal cost to the department, making it an easy decision.
"We knew that membership in the ASBMB would provide each trainee with superb career-development opportunities, including the ability to expand their professional networks through multiple mechanisms and to keep up with the latest scientific developments and social trends in the field," he said.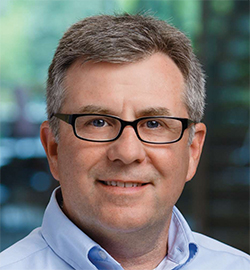 John CorbettCorbett said he sponsors ASBMB memberships for three reasons: "First, I deeply believe that scientific societies are central to our work as scientists. Second, I believe in society-based journals and think that the for-profit scientific publishing industry has a negative impact on the research enterprise. Third, the cost–benefit analysis makes sense to me. The cost of membership is not that great in the big picture, and the benefit of supporting the great work ASBMB does makes it an easy decision."
ASBMB membership provides trainees with access to the society's three journals, the Journal of Biological Chemistry, the Journal of Lipid Research, and Molecular & Cellular Proteomics, Brennan pointed out.
"Belonging to the ASBMB offers an important discount in publication costs, which unfortunately sometimes influence, inappropriately, the choice of journal in which someone submits her or his high-end science," he said. "If the work should be published in JBC, membership in the ASBMB can aid in this decision."
Corbett also stressed the importance of the ASBMB journals. "Practicing scientists that run labs run society-based journals," he said. "The for-profit scientific publishing industry places the emphasis on 'hot topics' instead of on doing solid, reproducible research … By supporting your favorite scientific society, you help run a journal for scientists by scientists."
Another benefit Brennan cited is the opportunity to obtain travel grants to the ASBMB annual meeting or one of the society's special symposia. "These meetings are key to the scientific and professional development of all our trainees," he said, "and their attendance will benefit each in multiple ways."
Corbett mentioned the work of the ASBMB Public Affairs Committee. "Membership gives individual scientists a collective voice to influence policy decisions in Washington," he said. "ASBMB gives us a seat at the table. A great example of this is the work they are currently doing to educate policy makers on the importance of investigator-initiated basic science research, which is essential for the translational discoveries we all want to see."
And finally, Corbett noted that the ASBMB has outstanding professional-development resources for early-stage scientists at each career level from undergraduate to tenured faculty member. "The importance of these resources cannot be overstated in today's competitive landscape," he said.
These two biochemistry department chairs, without knowing of each other's actions, have taken the initiative to support their students, postdocs and faculty by supporting their memberships in the ASBMB.
It is the authors' hope that others will be inspired by their actions to expand the benefits of ASBMB membership to their academic communities.
The value of membership
Entering the world of science can be overwhelming. As a student, you are inundated with new knowledge and often placed in an environment where you have little exposure beyond undergraduate research opportunities. It's good to know you're not alone — support is available from an organized group of scientists with similar interests.
The American Society for Biochemistry and Molecular Biology publishes three highly regarded journals and hosts an annual meeting as well as specialized smaller meetings. Early-career scientists can benefit from these and many other services the society offers, including career development, support for minority scientists, advocacy (for grant funding and issues important to the science community), undergraduate chapters and biochemistry program accreditation, and science communication. These benefits have been developed to address your needs as you round out your career goals. The ASBMB leadership asks itself what would be useful to society members and then strives to provide it.
The Membership Committee, re-energized under Natalie Ahn's presidency, has been reaching out to the community of individuals who identify themselves as molecular life scientists. Over the past two years, we have met in person semiannually and by teleconference monthly to assess the society's services and offerings for potential members. Many of us have been ASBMB members throughout our professional lives, and the experience has connected us with colleagues and started lifelong friendships as well as paving the way to professional milestones.
With the long-range goal of organizing more regional activities supported by the ASBMB, the committee members have started hosting networking events. The first was held at Duke University in May. At this evening event, a new faculty member in the department of biochemistry, Kate Meyer, presented her research and then discussed her career pathway and what ASBMB membership meant to her. After a Q&A period, committee member Bettie Sue Masters presented a brief PowerPoint describing the benefits of joining the ASBMB. After this event, Richard Brennan, chair of Duke's department of biochemistry, announced that his department would sponsor ASBMB memberships for grad students and postdocs.
Interested in learning more about membership, networking events or sponsoring trainee memberships in your department? Contact the ASBMB membership department.
– Bettie Sue Masters & Blake Hill
Join the ASBMB Today mailing list
Sign up to get updates on articles, interviews and events.
Latest in Careers
Careers highlights or most popular articles