Training
So you're going to grad school
Here's some advice relating to housing, getting supplies, budgeting, advocating for your needs and planning
It's that time of year again: Graduation ceremonies have commenced (many in person this year), and summer is upon us. If you're planning to start graduate school in the fall, you may be looking at summer with a new eye.
For some, this is just another temporary break from classes as they end one school year and start another (albeit in a new graduate program). For others, this fall may be the first time they'll be entering a classroom in a while. Regardless of whether you're headed into a graduate program right out of school or after other experiences, there are several things you can do to prepare.
The transition to graduate school life can be difficult. This article touches on some of the topics you can start thinking about to make that transition easier.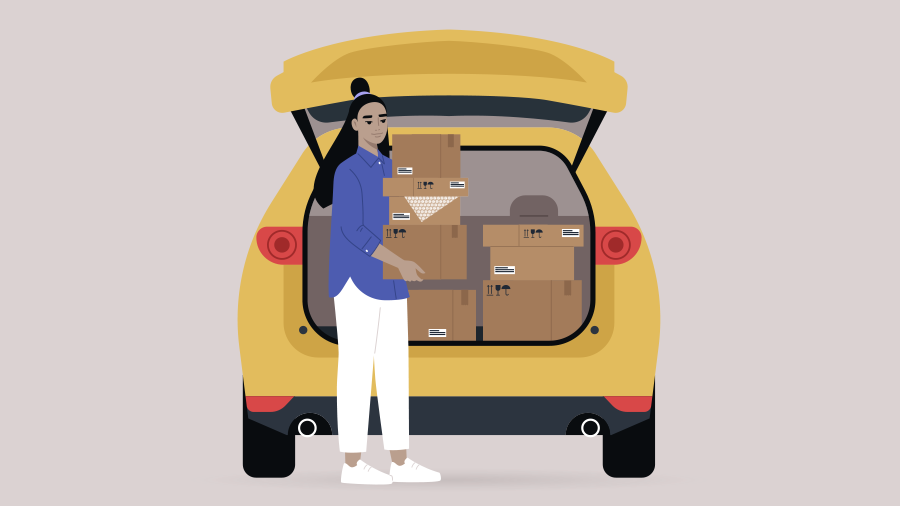 Finding housing
Perhaps the biggest and most crucial hurdle to tackle when starting a new program is finding housing. If you don't have to relocate, great! That can make the transition easier. Living at home with parents or other relatives also can help reduce some of the financial stress of being in graduate school, but this isn't always an option.
If you aren't familiar with the city you're moving to, I would suggest reaching out to other members of the program you're joining. When I started my graduate program in Baltimore, I had been to the city only once for my interview and had no family or friends anywhere nearby. My program coordinator connected me with a third-year student who was really helpful with sending suggestions of areas to look in for housing. Try reaching out to your program coordinator (or other students in your program) to see if they can help you navigate the city if you're unfamiliar with it.
Another consideration is location. I knew I wanted to be close to the school so that I could easily get to class (I didn't have a car). Many schools have shuttles for students as well, so you can try looking online for shuttle maps to determine if there are neighborhoods that aren't as walkable but would still be easy to get to and from.
Think about how much time you're willing to spend getting to and from class or lab every day when picking a place to live. If you have children or are taking care of a loved one, that may also influence where you chose to live — a longer commute may be in order, and, if that's the case, you can always have a conversation with your principal investigator down the line so they're aware of your schedule and needs.
As for roommates, that can be another tricky component, especially if you don't know anyone. I was lucky in that I met another girl during my grad school interview weekend and we stayed in touch. When we both chose to attend the same grad school, we also decided to live together. It was fun and convenient having someone going through the same classes at the same time and helped make the transition easier. If there was someone you met and liked, try reaching out to them, or you could email the other students in your cohort as well (your program coordinator could likely put you in touch with them if they haven't already).
You can also look for a "classified" page run by your school where any student can post about housing or finding roommates. Your program coordinator or someone within the professional-development office may be able to point you toward that resource. Oftentimes you need a school-associated email address to view posts.
Getting your supplies
When you get your syllabus or additional information for your first-semester classes, you may see that certain supplies are needed. This often means textbooks. If you haven't bought one in a while, textbooks are almost always expensive and are almost always getting updated.
Some textbooks will be absolutely required and, in that case, looking for used options or e-books online can be a good way to save money. You can also reach out to older students to gauge how much a textbook is used in class and if they have a used one they can spare. The school library may also have copies if you don't want to purchase one outright.
I can't speak for every class or school, but I can tell you that buying those textbooks was not a good use of money for me. I had the sixth edition of the biochemistry textbook I needed, but the eighth edition was recommended. I bought the eighth edition (which was not cheap even used) and didn't open the book at all during the class. I will say that if you like to rely on textbooks as a key source for learning, you can still probably get away with having an older edition — the page numbers noted on the syllabus (if any) may be slightly off, but the content is still largely the same. Again, older students can be a great resource for when determining how critical it is to have the most up-to-date textbook.
A laptop computer is also pretty important. Unfortunately, many programs do not provide students with laptops nor do they offer any sort of funding support to purchase one. As someone who lost data due to not one but two computer failures during graduate school, I know how expensive buying a computer can be. My best advice for this is to buy the computer you like best (if you don't have one already) and make sure to keep it safe. I bought a waterproof sleeve so it was always protected in my backpack.
Work on your budget
Many Ph.D. programs in STEM come with a stipend, whereas many master's programs do not. For programs with stipends and for loans taken out to pay for your education, payment schedules can be variable. It's important to think about your budget before you start school to make sure you're prepared.
For example, some programs do not withhold taxes when they distribute stipend money. That means that students are responsible for paying their taxes quarterly or annually, which can be large sums of money. It's important that you know if your taxes are being withheld or not (look at a pay stub or talk to your payroll contact or program coordinator) and, if not, to set aside that money so you're ready come tax season.
Graduate students typically don't make much money, so consider your approximate monthly income when trying to find housing, parking, etc. Having a general idea of how much you have to spend each month can help avoid credit card debt or other forms of spending that may not be sustainable. Grad school finances can be complicated, so try to build up savings as you go along in case of unexpected expenses (such as needing to replace a laptop).
Advocating for your needs
Graduate school is a different experience for everyone. If you know you will need specific accommodations to facilitate your success, make sure to reach out to the accessibility office early. The office itself may have different names depending on the school — the office of accessibility, education support and disability services, etc. Your program director or coordinator should be able to point you in the right direction.
I've spoken with accessibility advocates before and have heard it can sometimes be difficult to get what you need. Being granted additional time on tests or access to equipment that may make lectures more accessible can often require paperwork and time. So start the process early! Reach out as early as you can so that the office can (hopefully) have everything ready by the time you start.
Planning for things you can control
Finally, spend some time thinking about what the school year may look like and thinking about what you'll need to be successful. Do you need to make sure you have a dedicated study space in your room? Start getting what you need to set it up. Do you know you tend to procrastinate? Starting thinking of how you'll stay on top of tasks and studying.
The more you plan for the things you can control, the easier the transition will be. And if you find you're having trouble after starting, reach out to your program coordinator, program director, or an older student to find the help you need.
Enjoy reading ASBMB Today?
Become a member to receive the print edition monthly and the digital edition weekly.
Learn more
Get the latest from ASBMB Today
Enter your email address, and we'll send you a weekly email with recent articles, interviews and more.
Latest in Careers
Careers highlights or most popular articles