President's Message
A hub for career exploration
An interview with Cynthia Fuhrmann about pd|hub
We all know it's important to prepare students and postdocs for a broad range of scientific careers. Yet when I was writing a renewal application for a T32-funded biotechnology training program, I struggled to identify evidence-based strategies and assessments for my university's career exploration and professional development activities.
I recently served on a study section that reviews similar training grants, so I know this challenge is not unique.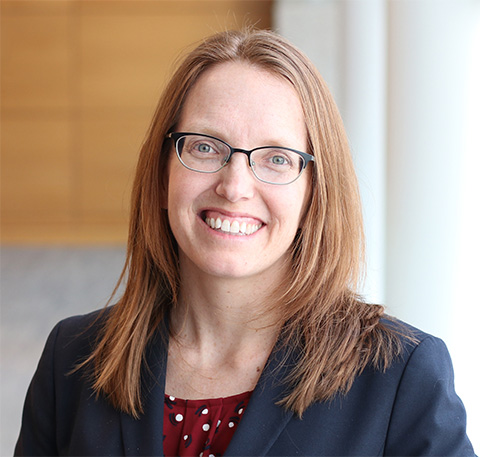 UMAss Chan Medical School
Cynthia Fuhrmann is the principal investigator of pd|hub, which recently produced its first collection of Ph.D. professional-development resources.
Bioscientists have many career options, but the faculty members who train them often have little experience outside academia. We can easily envision activities that expose trainees to a variety of careers, or workshops and courses that build both translational and technical skills. It's harder to address trainees' social and psychological needs as they navigate the often stressful process of deciding what career path matches their aspirations. How do we know if the programs we design and deliver will succeed in preparing students and postdocs for fulfilling careers?
I am happy to tell you that help has arrived! The Professional Development Hub, known as pd|hub, recently launched its inaugural collection of educational models to support career exploration. The goal is to curate evidence-based practices in Ph.D. professional development and then make them available to the people who need them. And our society helped make it happen.
Now a national center, pd|hub was conceived during the American Society for Biochemistry and Molecular Biology's 2016 sustainability summit, an initiative of the society's Public Affairs Advisory Committee, or PAAC, under the leadership of Wes Sundquist.
Progress toward the hub and the pd|hub Collections repository continued through a number of working groups, including members of the PAAC and the Education and Professional Development Committee, and with funding from the Burroughs Wellcome Fund, the National Science Foundation and the National Institutes of Health.
The ASBMB is a member of the pd|hub Scientific Societies Group, which partners with pd|hub to share ideas and resources and collaborate on cross-disciplinary projects such as a recent webinar series.
pd|hub brings together stakeholders to advance evidence-based, inclusive professional development practices. The pd|hub Collections compile educational models from across the country. In addition to reading about the models on the website, institutions can become implementation sites, gaining access to detailed lesson materials, training and consultation for trainers, and centralized evaluation.
I recently spoke with Cynthia Fuhrmann, principal investigator of pd|hub and an associate professor at the University of Massachusetts Chan Medical School, about the inaugural pd|hub Collection, "Foundations of Career Exploration for Ph.D. Scientists." Our conversation has been edited.
What's unique about the pd|hub Collections?
As you've experienced, it's difficult to find effective models for Ph.D. professional development — most are not published, and the few that are may be spread across various science or education journals. At pd|hub, institutions can find a curated set of diverse, effective models and can also access resources and support for adapting, implementing and evaluating them.
Tell me about this first collection.
It focuses on the fundamentals of career exploration. This process involves not only assessing different career paths but also considering one's own strengths, interests, values and needs while navigating an identity shift. Lack of support through this process can impact mental health and well-being of early-career scientists, and even their sense of belonging in science. We've curated three courses and two single-workshop models that are ready for universities to adapt for their own trainees. The first cohort of implementation sites is underway now, and applications for the next cohort will open this spring.
How were the models selected?
We didn't want this collection to be limited to models already well known, so we put out an open call to attract submissions that apply a wide variety of approaches. Models were curated carefully using peer review to assess effectiveness. We looked for alignment with what experts in vocational psychology and related fields know about career exploration. We also sought inclusive teaching approaches and adaptability. The people who submitted the models now play an integral role in the train-the-trainer workshops and communities of practice as fellows of this pd|hub Collection.
In the next round of applications for implementation sites, what types of institutions or programs are you looking for?
Our pd|hub team and fellows will work closely for a year with the sites. With this investment in mind, we seek applicants who are ready to adapt and implement a model this year. These include institutions in early stages of developing their Ph.D. career development offerings or those seeking to fill gaps in their existing program. We particularly encourage applications from minority-serving institutions or faculty who work closely with students or postdocs from groups historically marginalized in science.
What commitment does an institution make to become an implementation site?
With support from the NIH, the sites get trainings, consultations and evaluation at no cost. However, they commit to implementing the model at least once at their institution and participating in activities such as train-the-trainer workshops and community-of-practice meetings.
What does the future hold?
The pd|hub Collections are designed to keep practices evolving. As we collect data across the sites, we'll learn about how the approaches work in different settings or adaptations. These lessons will be shared through the community. We'll introduce future collections focused on other professional development competencies. Over time, the collections will form a rich resource database and connect communities to drive innovation.
Learn more at pdhub.org.
Enjoy reading ASBMB Today?
Become a member to receive the print edition monthly and the digital edition weekly.
Learn more
Get the latest from ASBMB Today
Enter your email address, and we'll send you a weekly email with recent articles, interviews and more.
Latest in Careers
Careers highlights or most popular articles