Wellness
Holistic mentorship
Tips for supporting graduate students and postdoctoral fellows
Holistic: relating to or concerned with wholes or with complete systems rather than with the analysis of, treatment of, or dissection into parts.
— Merriam−Webster Unabridged Dictionary
Graduate students in the sciences work to understand or create something novel and present these findings to the larger community, with the goal of moving on to an independent career solving bigger and more complex problems. Postdoctoral fellows feel added pressure to own a piece of the work and to be seen as the creator and keeper of this knowledge as they explore careers inside and outside of academia.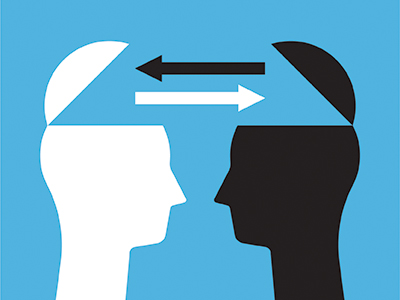 The pressures experienced by graduate students and postdocs are often overwhelming:
Will there be enough funding?
Will my experiments work?
Will anyone be interested in my findings?
Will someone beat me to them?
Do I have what it takes to be successful?
As faculty members working to support graduate students and postdocs in an uncertain and high-stakes environment, we have developed a set of approaches that serve us and other mentors in the academic community. We advocate for building a mentoring team; a single primary research advisor has difficulty meeting all the needs and interests of a trainee. A team can provide support on all sides, and feeling supported goes a long way to enhancing a trainee's productivity, resilience and overall satisfaction.
Graduate students and postdocs are more than their work in the lab. They have complex lives. They may be responsible for a family or be living far from their family (or both). Personal commitments beyond current research projects may provide the fuel and fire for their further training; perhaps they bear the expectations, or assumptions, of others. They have financial stresses and feel self-doubt about how they choose to invest in their future.
Here are some suggestions for mentors to holistically support the development and success of graduate students and postdocs.
Ask open-ended questions
Instead of assuming we know what's going on with a mentee, we should be curious. We can be surprised to learn what's happening in their lives and with their thinking. Before we start lecturing or offering advice, if we show genuine interest and listen, we can better align guidance with where the mentee actually is. For example, either before or after a research-focused conversation, ask how the grad student is feeling about the work and check in about other things (interests and stressors) going on in their lives.
Set clear expectations
Many students enter graduate school or a postdoctoral fellowship knowing little about the unique milestones of academic progress — qualifying exams, masters' theses, finding a primary faculty advisor or developing a line of independent research. Demystifying these steps can be helpful, especially for students who may be the first in their families to earn a college degree or international students who have experienced a different educational system.
Create connections
We sometimes assume that students just will figure out how to seek the things they need or are interested in. We who have worked in university settings for decades can forget easily that these things are not all obvious. Isolation — from peers or faculty — can be a risk, particularly for students who see asking for help as a weakness or who believe it is not safe to be vulnerable. It's helpful to schedule regular advising meetings as a routine check-in. This setting can help normalize feedback so it becomes routine to talk about what's going well so trainees can build confidence in their strengths. Regular feedback also creates a safe opportunity for trainees to learn what they might do differently to do better in the future.
Create a culture of belonging
We have heard from some students that others make them feel that they were admitted to graduate school only because of diversity priorities. They experience micro- or macroaggressions from classmates, faculty or staff — hurtful comments that question whether someone who is not from the dominant culture can really fit in. What can we as mentors do to highlight the unique contributions every person brings to a program or training environment? We need to stress that diversity in backgrounds and training is best for advancing any field. The unique gifts and experiences of each team member should be celebrated. Invite trainees to attend departmental, professional or community meetings that are important to the work — this helps expand the circle of belonging within the professional community.
Show that being vulnerable is OK
As mentors, we need to talk about our own support structures and self-care practices. The more honest we are, the more students can trust us with their concerns and needs. Failure is part of our academic lives — we all have missteps, and we need to recharge and refuel. Demonstrating how we seek support can be our best gift to a trainee (and by practicing self-care, we can offer our best selves as mentors without burning out). We suggest sharing a true story from when you were a graduate student or postdoc about having a paper rejected by a journal or being questioned about research methodology at a national conference; talk about your feelings and how you reached out for help. Explain how you were able to draw upon these experiences the next time you hit a tough patch.
Stay focused on the why
Tapping into a trainee's passion and purpose — the why of why they are in graduate school or pursuing a postdoctoral fellowship — is key to helping them sustain energy and commitment for the long haul. Here too, we can get curious, ask questions and then, as allies, remind them of their passion and purpose when the going gets tough.
Help broaden their networks: None of us knows everything about all potential employment sectors. We need to connect our mentees to people within our own networks or those of our colleagues and friends if their interests align. When we share our network, our trainees can build more relationships as collaborators, mentees, friends or future colleagues.
If we are lucky, each of us is both mentor and mentee throughout our career. Mentorship, peer connections and access to support, whether for academic skills or emotional health, can help our mentees shift from surviving to thriving.
Enjoy reading ASBMB Today?
Become a member to receive the print edition monthly and the digital edition weekly.
Learn more
Get the latest from ASBMB Today
Enter your email address, and we'll send you a weekly email with recent articles, interviews and more.
Latest in Careers
Careers highlights or most popular articles