May 4–5, 2021 | Virtual
PDB50
A special symposium celebrating the 50th anniversary of the Protein Data Bank
May 4–5, 2021
PDB50 will mark an important milestone in the history of structural biology. In 1971, the structural biology community established the single worldwide archive for macromolecular structure data — the Protein Data Bank (PDB). From its inception, the PDB has embraced a culture of open access, leading to its widespread use by the research community. PDB data are used by hundreds of data resources and millions of users exploring fundamental biology, energy and biomedicine.
Structural biology and structural bioinformatics have had an enormous impact on our understanding of the mechanism and function of biological macromolecules. The PDB acts as a custodian for all these data, representing a repository of the vast majority of the achievements and milestones of the structural biology community. The archive is managed by the Worldwide Protein Data Bank consortium (wwPDB) of partner sites in Asia, Europe and America.
This celebration of the 50th anniversary of the founding of the Protein Data Bank as the first open access digital data resource in biology will include presentations from speakers from around the world who have made tremendous advances in structural biology and bioinformatics. Students and postdoctoral fellows are especially encouraged to attend and will be eligible for poster prizes.
Journals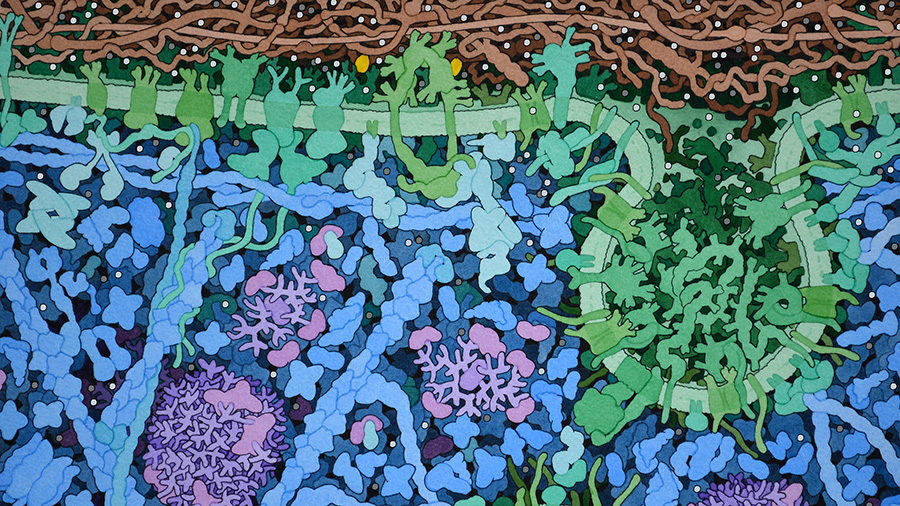 JBC celebrates the Protein Data Bank
The Journal of Biological Chemistry has assembled a thematic review series and virtual collection of papers commemorating the PDB's 50th anniversary.
Organizers
Celia Schiffer, University of Massachusetts Medical School
Helen M. Berman, Rutgers, The State University of New Jersey; RCSB PDB
Stephen K. Burley, Rutgers, The State University of New Jersey; RCSB PDB
Jeffrey C. Hoch, University of Connecticut; BMRB
Gerard J. Kleywegt, European Bioinformatics Institute; PDBe
Genji Kurisu, Osaka University; PDBj
John L. Markley, University of Wisconsin–Madison; BMRB
Sameer Velankar, European Bioinformatics Institute; PDBe
Christine Zardecki, Rutgers, The State University of New Jersey; RCSB PDB
Acknowledgement: Illustration by David S. Goodsell, The Scripps Research Institute. doi: 10.2210/rcsb_pdb/goodsell-gallery-003
This illustration shows a cross-section through the blood, with blood serum in the upper half and a red blood cell in the lower half. In the serum, look for Y-shaped antibodies, long thin fibrinogen molecules (in light red) and many small albumin proteins. The large UFO-shaped objects are low density lipoprotein and the six-armed protein is complement C1. The red blood cell is filled with hemoglobin, in red. The cell membrane, in purple, is braced on the inner surface by long spectrin chains connected at one end to a small segment of actin filament.
Program schedule
All times listed are U.S. Eastern Daylight Time (EDT)
Tuesday agenda
PDB50 Scientific Session #1
Welcome to PDB50 — A Celebration!
by Celia Schiffer, University of Massachusetts Medical Center
Moderator: Janet Thornton, European Bioinformatics Institute
The evolution of the Protein Data Bank as a community resource
Helen M. Berman, Rutgers, The State University of New Jersey; University of Southern California
Structural insight into SARS-CoV-2 replication and transcription complex (RTC)
Zihe Rao, Shanghai Tech University; Tsinghua University
Impact of structural biologists and fifty years of Protein Data Bank operations on drug discovery and development
Stephen K. Burley, Rutgers, The State University of New Jersey; University of California, San Diego
Solving 3D puzzles by integrative modelling using PDB structures
Alexandre M. J. J. Bonvin, Utrecht University
Posters/Exhibits/Virtual lounge
PDB50 Scientific Session #2
Moderator: Thomas Koetzle, Brookhaven National Laboratory
Using HIV-1 reverse transcriptase structures to guide anti-AIDS drug discovery
Eddy Arnold, Rutgers, The State University of New Jersey
"Speck"tacular inflammasomes: structures of supramolecular complexes in innate immunity
Hao Wu, Harvard Medical School; Boston Children's Hospital
Science, crystallography, reflections: A journey with the PDB over 35 years
Jennifer L. Martin, University of Wollongong
Wednesday agenda
PDB50 Scientific Session #3
Welcome Back – Celia Schiffer, University of Massachusetts Medical Center
Moderator: Joel Sussman, Weizmann Institute of Science
50 years of PDB — from crazy idea to treasure
Johann Deisenhofer, University of Texas Southwestern Medical Center
Structural biology of telomerase
Juli Feigon, University of California, Los Angeles
A personal history of five decades of structural biology and the PDB: From the X-ray structure of 2-Zinc insulin hexamer in 1970 to Cryo-EM structures of DNA-PK from DNA repair in 2020
Thomas L. Blundell, University of Cambridge
Posters/Exhibits/Virtual lounge
PDB50 Scientific Session #4, Poster Award Announcement and Closing Remarks
Moderator: Shoshana Wodak, SickKids Research Institute
Antibody small molecule conjugates with computationally designed target binding synergy
Stephen L. Mayo, California Institute of Technology
Cryo-EM of biomolecules at Ångström resolutions
Wah Chiu, Stanford University
Integrated BioNMR — getting by with a little help from my friends
Angela M. Gronenborn, University of Pittsburgh