The Journal of Biological Chemistry is proud to the announce the 2nd annual JBC Methods Madness.
Instead of basketball teams, this March we'll be pitting influential techniques against one another in a three-week competition for JBC Methods glory. Sixteen prominent methods, eight legends and eight rising stars, spanning the scope of biological chemistry have been matched up and you get to decide which method will be crowned the tournament champion!
How to play
Vote for your favorite methods on Twitter (@jbiolchem):
March 15–19: Scientific Sixteen (Round 1)
March 22–26: Energetic Eight (Quarter Finals)
March 29 & 30: Free Radical Four (Semifinals)
April 1: #JBCMethodsMadness Championship
April 2: Champion method announced
April 2: Tournament winner announced
Follow all the madness and review last year's tournament by searching the hashtag #JBCMethodsMadness!
Mass spectrometry is the 2021 JBC Methods Madness Champion!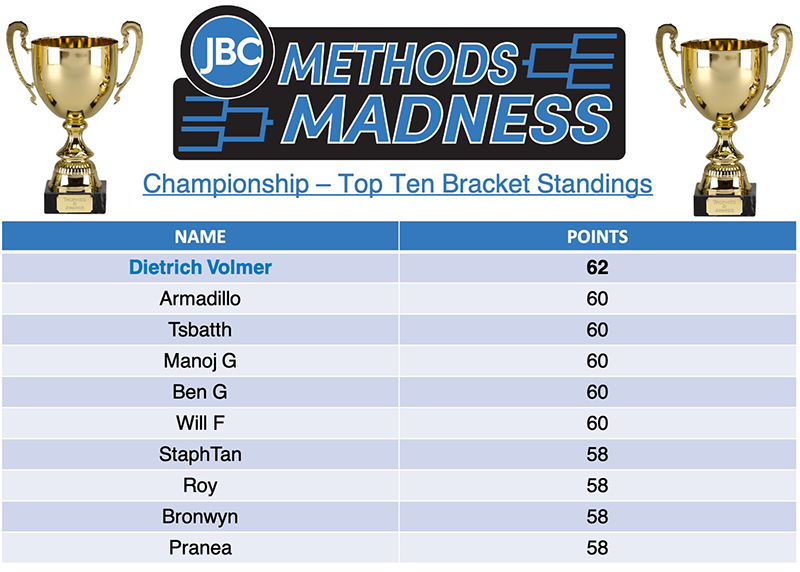 Scoring
| Round | Points |
| --- | --- |
| Scientific Sixteen (Round 1) | 2 |
| Energetic Eight (Quarter Finals) | 4 |
| Free Radical Four (Semifinals) | 8 |
| Championship | 16 |
Selection process
Widely used biochemical techniques were selected by ASBMB and JBC editorial staff with expertise in a range of scientific fields. All selected methods fall within the scope of the society's journals. Upon selection, the list was split into two categories, "Legends" and "Rising Stars" representing established techniques (greater than 30 years old) and newer techniques (less than or equal to 30 years old). This list was then condensed to 12 total methods, six in each category, on the basis of PubMed keyword hits, JBC usage statistics (ImpactVizor). Four additional methods, two in each category, were selected by JBC Scientific Editor Catherine Goodman and ASBMB Science Communicator Anand Rao, representing the four wild card picks. Selection lists were distributed to eight JBC editors and eight ASBMB technical staff members, and each group (Legends and Rising Stars) was independently ranked from 1 to 8 as the seed selection process.
Image credits
FRET: https://commons.wikimedia.org/wiki/File:Proteolytic_cleavage_of_a_Dual-GFP_fusion_FRET-pair.png Author: Thomas Shafee, Wikimedia Commons
CRYO-EM: Structure of RNA polymerase complex and genome within a dsRNA virus provides insights into the mechanisms of transcription and assembly Xurong Wang, Fuxian Zhang, Rui Su, Xiaowu Li, Wenyuan Chen, Qingxiu Chen, Tao Yang, Jiawei Wang, Hongrong Liu, Qin Fang, Lingpeng Cheng Proceedings of the National Academy of Sciences Jul 2018, 115 (28) 7344-7349
Live cell imaging: Author: Fenerliabi11, Wikimedia Commons
Immunoblotting: https://commons.wikimedia.org/wiki/File:Anti-lipoic_acid_immunoblot.png Author: TimVickers, Wikimedia Commons
Organoid: https://www.flickr.com/photos/nihgov/40269474401 NIH Image Gallery, David Gamm, M.D., Ph.D., University of Wisconsin-Madison
Molecular cloning: https://commons.wikimedia.org/wiki/File:Ecoli_colonies.png Author: Madprime, Wikimedia Commons
Optogenetics: https://commons.wikimedia.org/wiki/File:Optogenetic-Control-of-PIP3-PIP3-Is-Sufficient-to-Induce-the-Actin-Based-Active-Part-of-Growth-pone.0070861.s006.ogv Movie S4 from Kakumoto T, Nakata T (2013). "Optogenetic Control of PIP3: PIP3 Is Sufficient to Induce the Actin-Based Active Part of Growth Cones and Is Regulated via Endocytosis". PLOS ONE. DOI:10.1371/journal.pone.0070861. PMC: 3737352
PCR: https://commons.wikimedia.org/wiki/File:Baby_Blue_-_a_prototype_polymerase_chain_reaction_(PCR),_c_1986._(9663810586).jpg Science Museum London / Science and Society Picture Library
Mass spec: https://commons.wikimedia.org/wiki/File:Mass_Spectrometer_at_NIH_(24549823931).jpg NIH Image Gallery
Crystallography: https://www.flickr.com/photos/nihgov/29281977366/ NIH Image Gallery, NIH History Office, National Institutes of Health