Outstanding Chapter Award
The Outstanding Chapter Award recognizes Student Chapters that:
Demonstrate leadership in their educational activities in the areas of biochemistry and molecular biology.
Exhibit exceptional commitment to increasing public scientific awareness.
Demonstrate interaction with other campus activities and events.
Participate in regional and national meetings.
The award is presented at the ASBMB annual meeting. The honored chapter will receive an $850 cash prize to support chapter activities, which may include registration to the ASBMB annual meeting.
Eligibility
All active ASBMB Student Chapters are eligible for this award.
Applicants must successfully submit an application.
The application may be submitted on behalf of the chapter by either the chapter's faculty adviser or a student officer.
No abstract submission is required for this application.
How to apply
The following information is required to complete the online application and can be typed or copied and pasted into the online application form. Each section has a 2,500 character count maximum and should address chapter activities from the previous calendar year (January–December).
Chapter-sponsored educational and career events (chapter meetings, workshops, seminars on campus, poster sessions or minisymposia) with dates, locations and attendance.
University and community outreach activities organized by the chapter with dates, locations and attendance.
Social activities organized by the chapter with dates, locations and attendance.
Noteworthy accomplishments by the chapter or chapter-supported accomplishments of individuals (e.g., ASBMB research awards, chapter-supported research presentations, and ASBMB Honor Society).
Information about your school: size, location, department information, number of majors, access to regional meetings and any constraints including those impacted by COVID-19 that affect your chapter.
Previous winners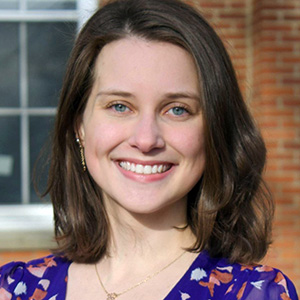 Olivia Miller
Otterbein University
(winner of the 2023 Outstanding Chapter Award)
"What makes our chapter outstanding is the community built between students and faculty. To be recognized for our efforts this past year is terrific and will challenge our chapter to set the bar higher for ourselves and become more creative."