Student Chapter Outreach Grant
The ASBMB Student Chapter Outreach Grant helps Student Chapters increase their involvement in science outreach activities. Funding is available for individual chapters to apply for up to $500 in support of outreach activities in their local communities. Successful applicants will also have the opportunity to receive outreach expertise and resources from the Science Outreach and Communication Committee and be featured in ASBMB media.
Applications
We welcome proposals for in person, as well as hybrid or virtual programming. We will be looking for creative ideas that take into consideration accessibility, sustainability and reach.
The grant is available to active ASBMB Student Chapters. There are two application deadlines each year:
Applications received after the deadline will be considered for the following grant cycle. Chapters can apply only once per calendar year.
See detailed application instructions
Review of proposals will take place during the four weeks following the application deadline. Applicants then will be notified of their initial results: award not granted, award granted or conditional. Conditionally granted proposals will have a week to submit their revisions and will be notified of a final decision no later than two months after the initial submission.
Application review timetable
| Cycle | Deadline | Initial review | Revisions due | Final decisions | Outreach event |
| --- | --- | --- | --- | --- | --- |
| Spring | March 1 | April 1 | April 10 | April 21 | Fall semester |
| Fall | Oct. 2 | Nov. 1 | Nov. 10 | Nov. 21 | Spring semester |
Criteria for awarding outreach grants
Applications will be reviewed based on the following criteria:
The project is feasible and the proposed activities are well-thought-out.
The program addresses a scientific need.
Proposals that engage broader community participation and has the potential to amplify reach will be given preference.
The proposal includes an informal assessment of the impact of the activities on chapter students and the target audience, including the number of participants and feedback (survey, reflection, questionnaires, etc.).
The program can be delivered within the funds requested and the timescale provided.
The proposal offers a plan for partial sustainability. Priority will be given to proposals that include a plan for continuity.
See detailed application instructions
Once funding is awarded:
Chapters will be expected to fill out and submit a summary progress report within two months of program completion.
Student members strongly are encouraged to present their outreach program through an appropriate ASBMB outlet:
Examples of outreach efforts and programs include:
Working with a local school to showcase hands-on science activities.
Science demonstrations, such as these ideas from the University of Northern Colorado.
Class visits to biochemistry labs to carry out experiments.
Science festivals or fairs, such as the Flipped Science Fair concept from Kids Judge! Neuroscience Fair.
(Virtual) science cafés, such as these ideas from UT Southwestern Medical Center.
Get inspired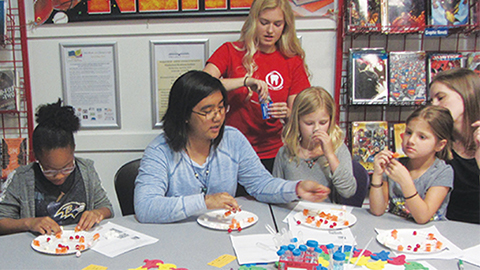 Magazine
Supported by an ASBMB outreach grant, Salisbury University students guide children through activities in biology — even making necklaces out of DNA.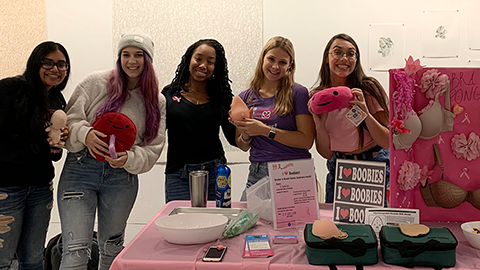 Magazine
Students at Marymount Manhattan College raised breast cancer awareness on their campus with an event funded by an ASBMB Student Chapter Outreach Grant.