Evan Pugh Professor and Eberly Distinguished Chair in Science, The Pennsylvania State University, Department of Chemistry, Department of Biochemistry and Molecular Biology and The Howard Hughes Medical Institute.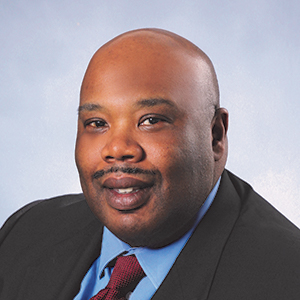 Statement of interest
I have been a proud member of the ASBMB for almost 20 years and have had opportunities to participate in the society at some of the highest and influential levels, beginning as chair of its Minority Affairs Committee (MAC) in 2011 and now as a member of the Finance Committee. As a member of the MAC, and then as chair, I helped to inaugurate the Ruth Kirschstein Diversity in Science Award and also established and organized the very first ASBMB grant-writing workshop, which has since blossomed into a highly successful and visible program called IMAGE.
Through these and many other efforts in the society, as well as through efforts as a member of the steering committee of the American Biomedical Research Conference for Minority Students (ABRCMS), I have developed a vast network of highly talented individuals across the entire academic spectrum who have a keen interest in moving the ASBMB forward.
Currently, like many other scientific societies, we face challenges associated with augmenting our membership base and attendance at our annual meeting. This picture must change for ASBMB to remain healthy and influential. In the past, the leadership and decision makers in the society have come almost exclusively from elite universities and medical schools. My goal will be to tap people from outside of these elite institutions (e.g. minority serving institutions and primary undergraduate institutions) to also participate in the governance of the society in order for us to have a more holistic vision as we formulate strategies to move forward.
Education and training
B.A. with a concentration in Chemistry, Austin College
Ph.D. in Biochemistry, Massachusetts Institute of Technology
Awards and honors
Associate Editor for ACS journal Biochemistry, 2019–present
MIT Graduate School Commencement Speaker, 2019
Elected, National Academy of Sciences, 2019
NIGMS Council Member, 2019–present
Penn State Graduate School Commencement Speaker, 2018
Named, Evan Pugh Professor, 2018
Appointed, Eberly Family Distinguished Chair in Science, 2017
Elected, American Academy of Arts and Sciences, 2017
Awarded, Faculty Scholar Medal, 2016
Selected, Howard Hughes Medical Institute Investigator, 2015
Elected, Fellow of the American Association for the Advancement of Science, 2014
Awarded, Arthur C. Cope Scholar Award, 2011
Awarded, Eberly College of Science Dean's Climate and Diversity Award, 2009
Awarded Presidential Early Career Award in Science and Engineering, 2004
Awarded, NSF Faculty Career Award, 2002
NIH Postdoctoral Fellow, 1995–1999
NSF-NATO Postdoctoral Fellow, 1994–1995
Experience
ASBMB Minority Affairs Committee member, 2008–2013
ASBMB Minority Affairs Commitee chair, 2011–2013
Established ASBMB's first grant-writing workshop, 2011
ASBMB Council (2011–2018) and voting member, 2013–2018
ASBMB Program Planning Committee, 2015–2016
ASBMB Meetings Committee, 2016–2019
ASBMB Finance Committee, 2017–present
ACS Biological Division advisory committee, 2016–2019
Steering Committee for American Biomedical Research Conference for Minority Students, 2016–present
Co-organizer of the ASBMB annual meeting, 2016