Associate professor, University of Texas at Arlington, Department of Chemistry and Biochemistry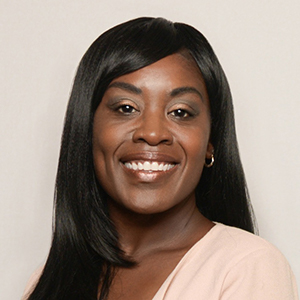 Statement of interest
I'm seeking this position because I want to contribute to an organization that has not only supported my own growth as a scientist and faculty member but has, more importantly, been very intentional about diversity, equity and inclusion and has shown unwavering support for all, including people of color and the LBGTQ community. Such support through programs, mentorship, outreach and engagement is critical for the future of our profession, and I'd like to bring my experiences and expertise to further assist, and support, the membership of the ASBMB through service on the ASBMB Nominating Committee.
It has been a privilege to be a member of ASBMB Minority Affairs Committee since 2017. This opportunity has been an amazing learning experience and has allowed me to champion issues of DEI in STEM, areas about which I have a deep and abiding passion.
At my home institution, I have served as the director of our Louis Stokes Alliances for Minority Participation program and organizer and faculty adviser of the College of Science Black Graduate Student Association, which provides extensive mentoring for underrepresented and first-generation STEM students. As the Women's Faculty and Staff Network faculty chair, I have supported the advancement of women across campus and am a key leader in this role. It has been my mission to increase diversity and shed light on issues for faculty, staff and students from diverse backgrounds.
As a member of the ASBMB Nominating Committee, I hope to cast a wider net to attract a broader group of people to the society, while enhancing that sense of belonging for women scientists of all backgrounds. A concurrent goal would be to increase overall membership and participation at annual meetings, while creating career-development workshops for members at all career levels.
I have received much support and have felt such a sense of belonging in the ASBMB community and now want to give back and enable others to receive the same and greater support through my service to the organization.
Education and training
B.S., Alverno College
Ph.D., University of Wisconsin–Milwaukee, 2006
Postdoctoral traning, University of Arizona, 2006–2010
Awards and honors
Silver EXCEL Award, Association Media & Publishing, for ASBMB Today essay "Being Black in the ivory tower," 2021
Professor of the Year Award, Arlington Sunrise Rotary, 2019
Advisor of the Year Award, University of Texas–Arlington, Division of Student Affairs, 2019
Faculty adviser, Organization of the Year, College of Science Black Graduate Student Association, University of Texas–Arlington, Division of Student Affairs, 2019
Ruth L. Kirschstein National Research Service Award, National Institutes of Health, 2007–2009
Experience
Member, ASBMB Minority Affairs Committee, 2017–present
Texas Academic Leadership Conference, 2020–present
Texas Alliance of Black School Educators & Texas Association of Black Personnel in Higher Education, 2021
Director, Louis Stokes Alliances for Minority Participation, University of Texas–Arlington, 2018–2020
Faculty chair, Women's Faculty and Staff Network, University of Texas–Arlington, 2018–present
Conclave Leadership Colloquium, Fielding Graduate University
Women's Leadership Conference, University of Texas System, 2019