Award
Sabatini honored for 'providing critical insights into the linkages between energy, nutrient metabol
He won ASBMB's Earl and Thressa Stadtman Award
The American Society for Biochemistry and Molecular Biology has named David Sabatini, associate professor of biology at the Massachusetts Institute of Technology and a Howard Hughes Medical Institute investigator, the winner of the society's inaugural Earl and Thressa Stadtman Scholar Award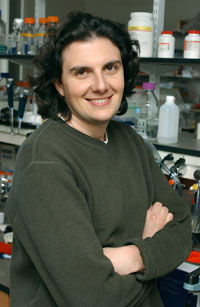 David Sabatini
About the award
The Earl and Thressa Stadtman Scholar Award was established by their friends and colleagues to preserve their legacies as scientists and mentors. It is awarded to a scientist with 10 or fewer years of post-postdoctoral experience, including medical residency and fellowship. The award is given every other year, alternating with the Earl and Thressa Stadtman Distinguished Scientist Award. The award consists of a plaque, a $10,000 cash award and travel expenses for the ASBMB annual meeting to present a lecture.
Sabatini received the award for his work identifying the mTOR pathway, a major regulator of mammalian cell growth and a central component of pathways relating to metabolism and aging. Susan Lindquist, a professor at MIT, praised Sabatini's work on mTOR for "providing critical insights into the linkages between energy, nutrient metabolism and cancer."
The work done by Sabatini's lab has led to the development of several drugs aimed at treating cancer. His lab also recently has demonstrated the ability of diet to affect aging and cell growth.
Solomon Snyder from Johns Hopkins University was not bashful in his praise for his former graduate student. "Virtually all of the major breakthroughs relating to signaling pathways whereby growth factors and nutrient amino acids regulate protein translation can be attributed to one individual: David Sabatini," Snyder said.
Upon completing his M.D./Ph.D. at Johns Hopkins, Sabatini was invited to become a fellow at the prestigious Whitehead Institute in 1997. He was elevated to full member in 2002. Sabatini also began a professorship in the department of biology at MIT in 2005.
In addition to his experimental insights, Sabatini has earned praise for his technological inventions, including the reverse transfection microarray, a rapid, high-scale throughput technique in which cells expressing defi ned cDNAs are screened for select phenotypes, thereby enabling investigation into the effects of varying gene expression levels on a cellular rather than population level. This technology also allows for simultaneous screening of the efficacy of multiple small-molecule compounds that serve as potential drug candidates.
"I am delighted to receive this honor from my colleagues and am humbled to receive an award named for pioneering biochemists whose work has influenced all of us who pretend to be one," said Sabatini.
Join the ASBMB Today mailing list
Sign up to get updates on articles, interviews and events.
Latest in People
People highlights or most popular articles